"I caught my first fish when I was around 6 years old. I fell in love that day, and the passion has never left me. We are the lucky ones. I pity the poor folk who have never discovered fishing. It offers meditation, exhilaration, heartbreak and ecstasy, and teaches us humility and compassion for our quarry and our environment. We need to ensure that our grandchildren have the same chance to experience its special magic for themselves."
Grafham Water, UK; Draycote Water, UK; River Tyne, UK; Yokanga River, Russia; Reisa River, Norway; Jardinas de la Reina, Cuba.
I've enjoyed a million laughs with many great friends while fly-fishing. One memory out of many: I met up with fellow RIO ambassador April Vokey in Norway a few years back and was shooting images of her on Norway's Gaula River at the Norwegian Flyfishers club. April casts like a champion and looked great but was kitted up from head to toe in Patagonia's new range of jacket and waders - all in a singularly un-photogenic and dowdy-looking grey. I had a bit of an artistic tantrum and started grumbling about the color and how dreary it was for pictures, and how it made my model look like a refuse collector. After trying every creative trick in my repertoire without success, I finally blurted out: "Grey???? Grey for chrissakkes!!! What were they THINKING OF?? Which ****ing IDIOT chose grey???" To which April replied, with a poker-straight face: "I did." Apparently, multi-talented gal that she is, she had just designed a whole new women's range for Patagonia. All in grey. Oh dear. We looked at each other for a long moment and then fell about laughing. We're still friends. I hope!!
I have been working as a fly-fishing photographer and journalist for over twenty years. I write & shoot destination pieces regularly for "International Game Fishing Association Magazine", "American Angler", "Chasing Silver", "The Atlantic Salmon Journal", "Fly Fisherman", "Fly Rod & Reel", "Trout & Salmon", "Fieldsports Magazine", "Trout Fisherman", "The Farlow's Magazine", "The Field", "Saltwater Flyfisher", "Adventure Fishing Magazine", "Today's Flyfisher", "Fish Wild", "FiskeFeber", "Fish Europe" and mainstream titles including "Conde Naste Traveller", "Esquire" & "GQ". I also have regular articles in online magazines "This is Fly" Magazine, "Finchasers" Magazine and "Catch" Magazine.
I have produced images and articles on fly-fishing featuring Alaska, Argentina, Australia, the Bahamas, Brazil, Bolivia, Canada, Chilé, Colombia, Cuba, Fiji, Guatemala, Iceland, India, Ireland, Mexico, Mongolia, New Zealand, Nicaragua, Norway, Russia, the Seychelles, Tanzania, the UK, Venezuela, the USA and Zambia. My images have been used by numerous tackle manufacturers and retailers including Mako, Hardy, Guideline, Patagonia, Sage, RIO, Farlows, Sportfish, Gamefish, and I have also been commissioned by numerous outfitters and private lodges including Frontiers, The Fly Shop, Sweetwater Travel, Roxtons, Aardvark McLeod, The FlyFisher Group, Flycastaway, Fly Odyssey and Where Wise Men Fish.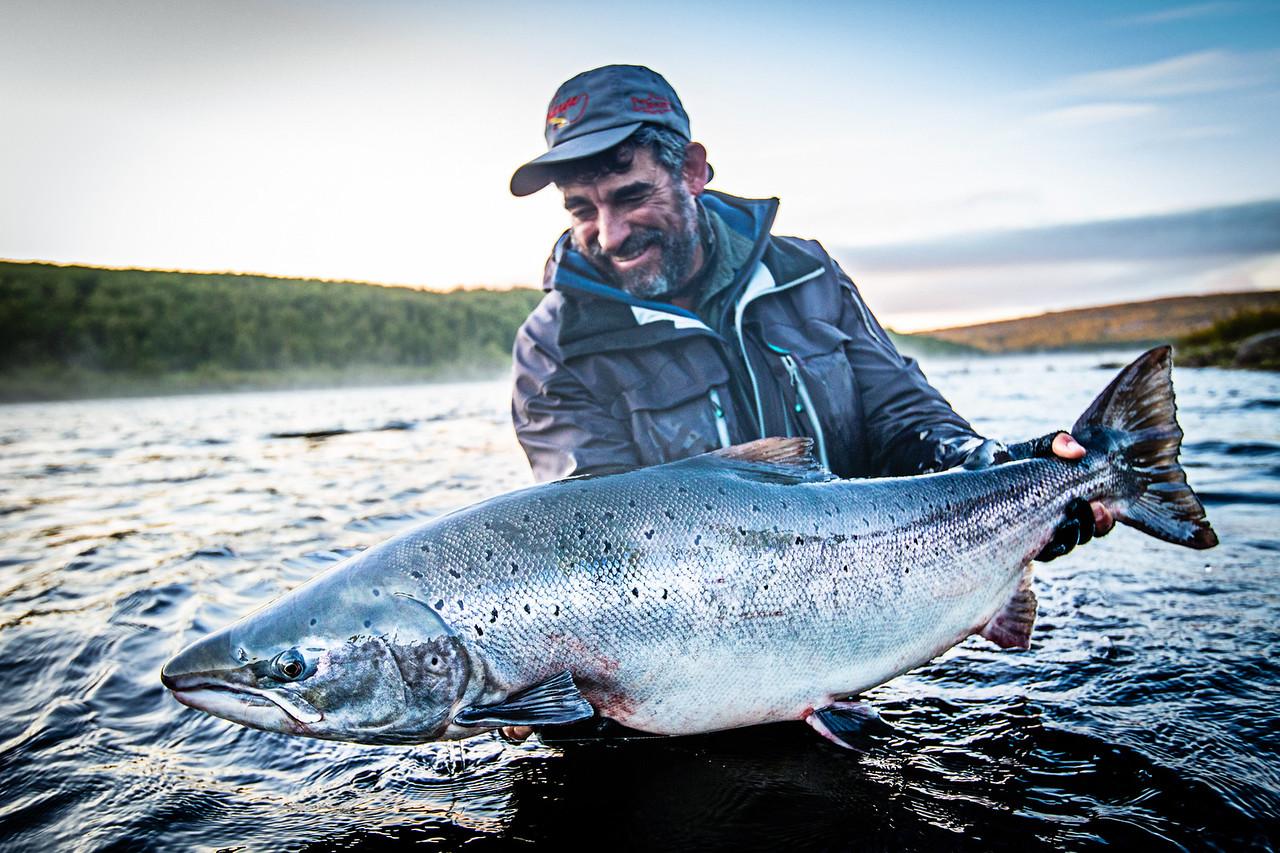 Personal Beliefs on Fly Fishing
Sustainability, and care and respect for our quarry and our environment.
Species You Specialize In
I love to Fly Fish for just about anything that swims, but if I had to choose: Permit, Atlantic Salmon, Trout, Peacock Bass, Tarpon, Roosterfish…actually, don't make me choose!
Dries, Poppers, in fact anything on the surface.
Scandi Body, Skagit Max, RIO Permit, Outbound & Leviathan
No matter the situation or the size of the fly, I simply cast further and more accurately, and present my flies better with RIO lines. The designs, from the taper to the shooting quality to the handling are always spot on, and the build quality is always ultra-reliable, even when tackling huge fish in harsh and hostile environments.
Special Rigging Techniques
Fish hard. Keep your fly in the water. Most of all, trust and follow your instincts – be bold; don't prevaricate, and respond to your intuition by making the change you are considering, rather than persisting with a method that is not proving successful.
Respect, protect and nurture the environments that we treasure and enjoy. Anglers can be a powerful force for environmental conservation, and we need the next generation to embrace our sport. Share your passion with others, and introduce others - both young and not so young - to the magic of fly-fishing, and the wild places that it can take us to.