June Fan of the Month
Andrew Todd 6.10.2019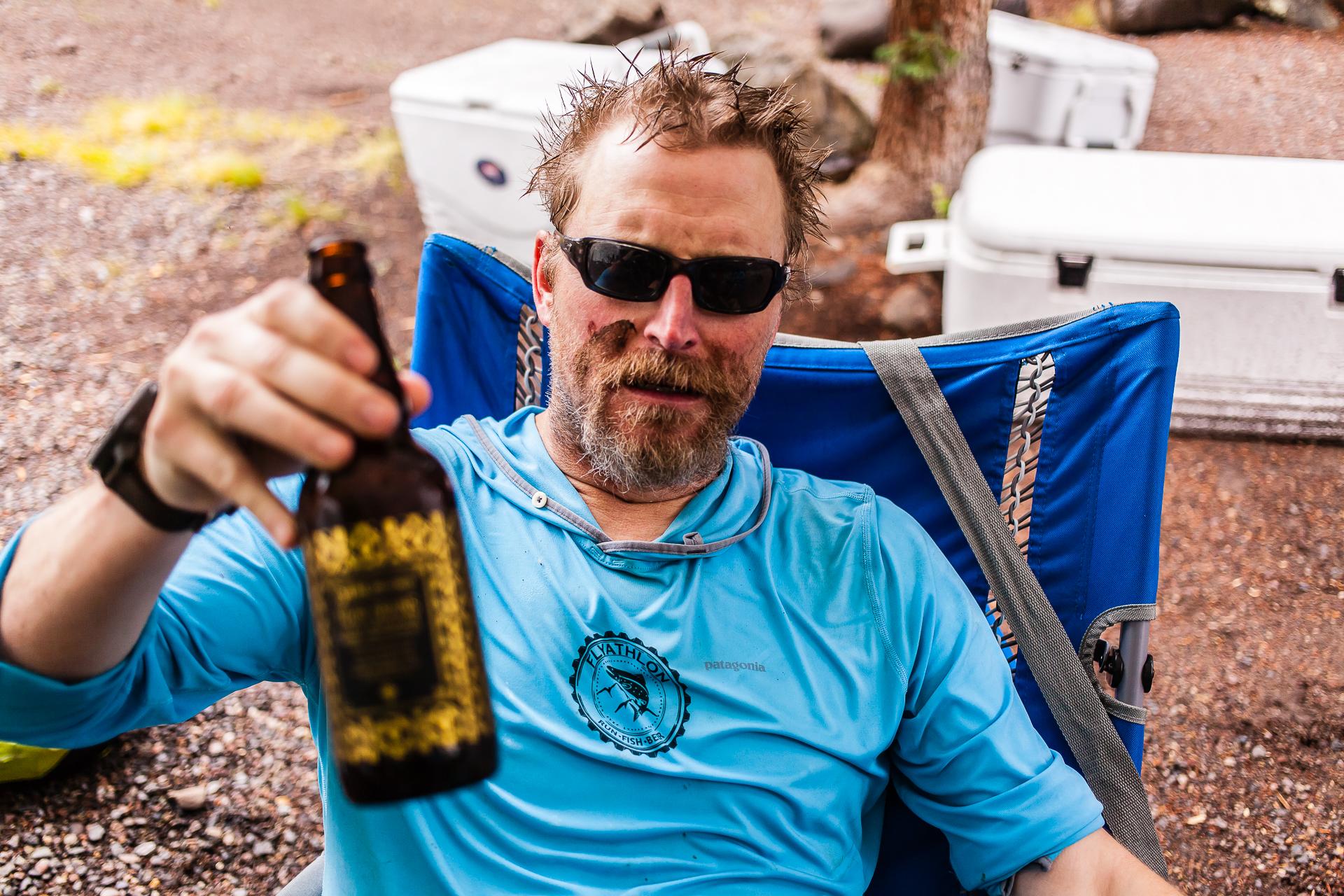 Hello, my name is Andrew Todd, and I am honored to be selected as Rio's Fan of the Month. I am a Colorado Native, living in Denver during the week and at our cabin in Westcliffe on most weekends. For my day job, I work as an aquatic ecotoxicologist for the Federal Gov't, but in my spare time I run a conservation 501(c)(3) organization called Running Rivers. Our primary program is the Rocky Mountain Flyathlon, wherein we pair trail running, fly fishing, and craft beer into uniquely awesome events that raise money for native trout conservation projects. In our 5 years of Flyathlon events, we have raised more than $150,000 for projects with our conservation partners, including Colorado Parks and Wildlife, the Forest Service, the BLM, the National Park Service, Trout Unlimited, and the Western Native Trout Initiative.
I fish WAY back there. From the high mountain lakes in the Sangre de Cristo Mountains to the remotest parts of the Weminuche Wilderness in SW Colorado, the further back the better. And I love cutthroat trout! As the only native trout species to Colorado and much of the Western U.S., cutthroat are an amazing fish that are worthy of our attention and affection!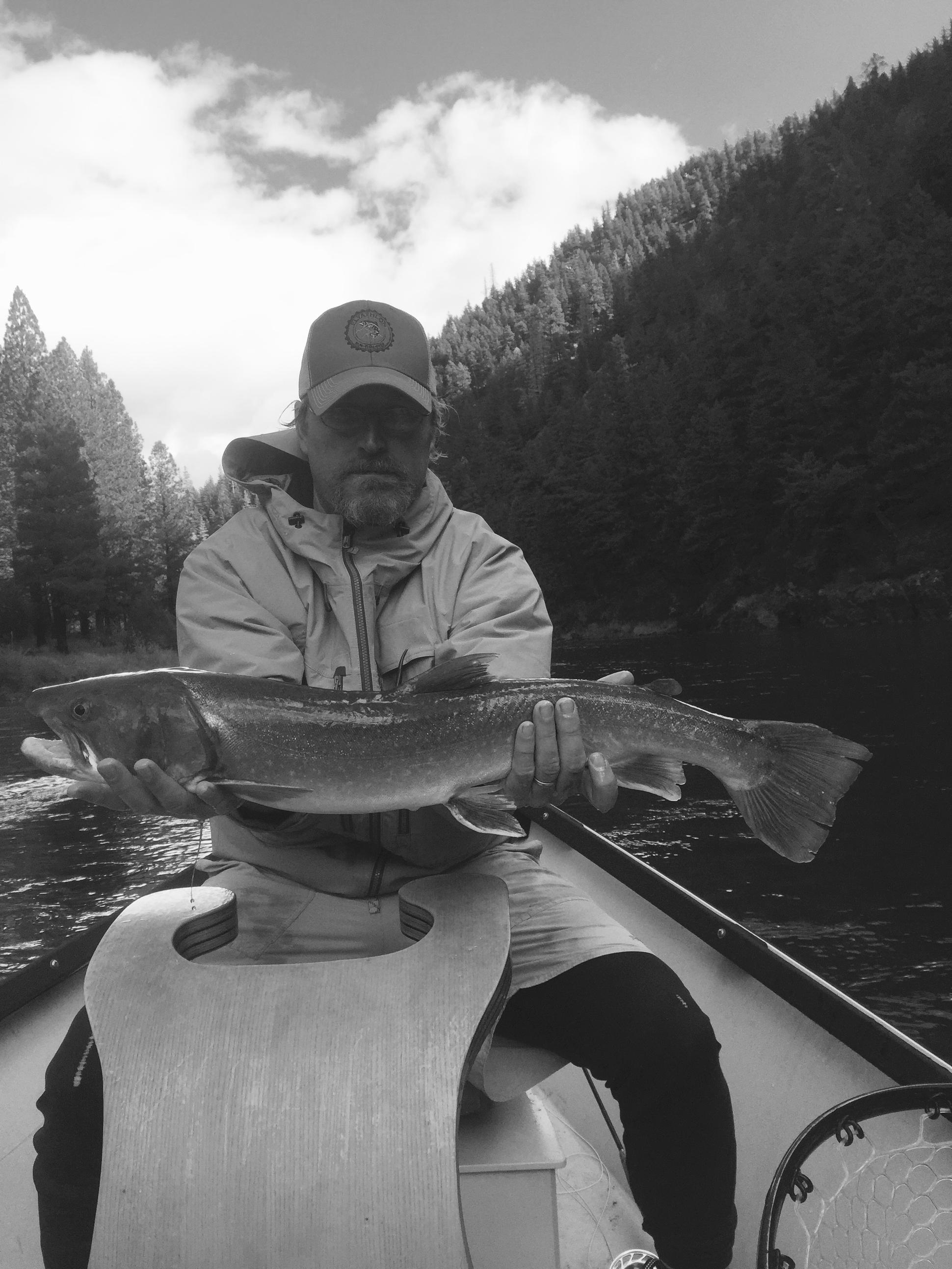 What is your most memorable fishing experience?
In my life, I have had the privilege of fishing with some truly great anglers, but my most memorable fishing experience was with my dad's friend Sam, who was 89 years old at the time of this story. Sam has graciously allowed us to fish his property in Colorado for many years, but this story takes place in Montana... In his 17 years of fishing in Montana, Sam had never caught a bull trout. Sam had never seen a bull trout. Sam wasn't sure that bull trout existed. Until that great Saturday several years ago.
The day started with heavy rain, and a lot of mountain whitefish. The guide called them "Sparkle Trout", which made them sound a lot cooler than maybe they really were. I was in the back of Sam's boat, which is always a treat. At his age, Sam takes his time casting, and so as the rear angler, you must also be patient.
It was during one of these patient moments, that I saw a dark shadow rising in slow motion towards Sam's dragging San Juan worm. As the massive mouth begins to come into focus, Sam picked up his line and cast again... Instinctively, I couldn't let this opportunity pass, so I nonchalantly swung my San Juan worm into the void that Sam had recently created. And 10 minutes later, Sam had seen his first bull trout, a ~30 inch monster, in my net... While Sam was happy to see this beautiful native fish, we secretly seethed that it was not him that had caught the beast.
Several hours (and a dozen whitefish) later, our guide announced that we were approaching the last truly fishy water on the float. Sam cast, and as he was stripping back, he hooked a 15 inch rainbow who struggled mightily on the river's surface. And just as it appeared that the day was going to end with yet another rainbow, a second mouth emerged from the depths and folded that rainbow in half.
Chaos ensued. The guide leaped up to untangle Sam's fly line from around his legs. There was a lot of yelling. But as the chaos settled, somehow, miraculously, there was still tension on his line. About 10 feet from the boat, we saw the bull trout for the first time, with the rainbow firmly in his mouth. The bull trout wasn't hooked, just incredibly determined. As Sam brought him closer, he noticed the boat and let go of the rainbow, much to the chagrin of our entire boat. But as we brought the rainbow around to the side of the boat, the water erupted as the bull trout returned to claim his rainbow. In a moment of slow motion clarity, the guide and I locked eyes as he handed me the boat net and gave me one simple direction. Don't f this up.
And though he was never hooked, we somehow landed that bull trout, a 33 inch beauty. I will never forget the incredible look on Sam's face in that moment. Complete and total satisfaction.
That is my favorite fish story. Here is the video version of that story...
Which RIO line do you fish?
I fish the 3-wt RIO Gold floating freshwater trout line because it is the perfect all-around line for backcountry trout fishing in Colorado. High mountain lakes, small headwater streams, and the occasional larger river. I love the way it casts.
What is your favorite technique?
I'd say that my go to fishing technique is the dry / dropper. I absolutely love to watch trout crush hoppers on the surface, but pick up a lot more fish if I include a dropper. My buddy Ben has tried to convert me to the euro-nymphing, and I see how productive he is with said technique, but I guess I am content to be stubborn and slightly less productive.
I also love to strip streamers at aggressive fish. In particular, big green streamers. If I am fishing an olive wooly bugger and it isn't working, I will typically just go "bigger and greener". I don't have any hard statistics on the efficacy of "bigger and greener", but it makes me happy, which is all that matters.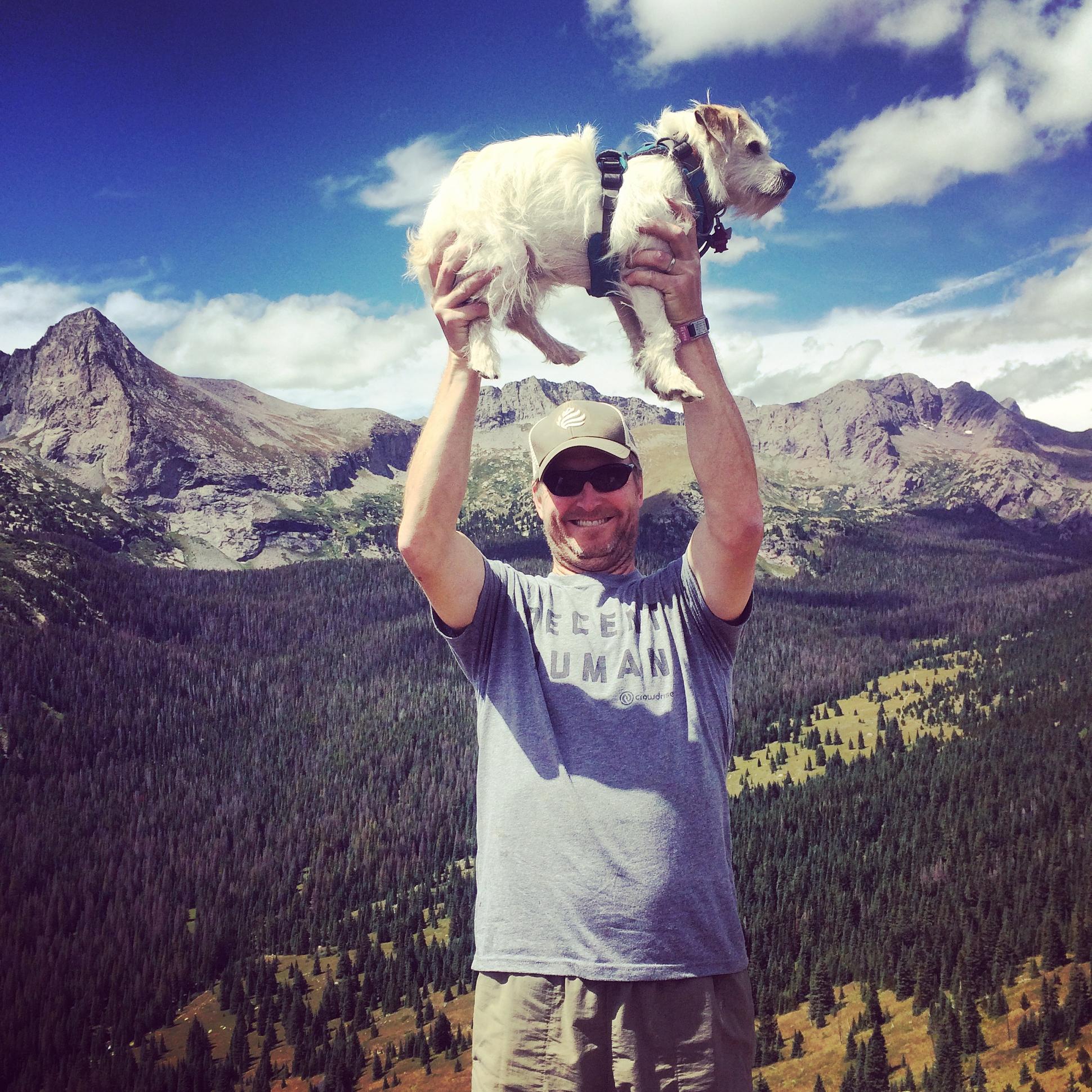 Any tips for fellow anglers?
One fishing tip that I have for other anglers is to get way back there. Some of the best places to fish aren't the places that are on the big board at the fly shop. My favorite places are miles back where you are unlikely to see anyone all day long. Get yourself a good set of maps, pick out some fishy looking water in the wilderness, let someone know where you are going and when you are likely to be back, and get way back there...
And fight for those wild places. With your voice, with your volunteer time, with your vote. We are all public land owners, and we need to step up NOW to take care of these places before they are gone.