JANUARY FAN OF THE MONTH
Samantha Brophy 1.21.2019
Hi everyone! I'm Samantha and I've been fishing my whole life. I grew up fishing with my dad, and when I moved to San Francisco for college he gifted me a membership at the Golden Gate Angling and Casting Club where I started fly fishing. While I still go fishing with my dad as often as I can, I make sure to bring a fly rod along on trips and I go on a lot of trips on my own now. I've really embraced fly fishing and recently started learning to spey cast with instruction from the amazing members at GGACC. My absolute favorite place to fish from is Graeagle, because I can go to nearby lakes, backpack up into the mountains for fish, or wade a nearby river. If you want to keep up with me on all my outdoor adventures follow me on instagram @brophuss.
WHAT IS YOUR MOST MEMORABLE FISHING EXPERIENCE?
My most memorable fishing experience was the first time I backpacked up into the Sierras to fish some remote lakes with natural browns and brook trout. Waking up in the morning surrounded by nature and being the only one out there fishing was so peaceful and serene and it reminded me just how important it is to take time out of my busy schedule to spend time doing things I love. I love catching wild fish and I never get tired of the beautiful colors of brooks and browns, and it is especially rewarding after a long day of hiking just to get to one lake.
CHANGE UP YOUR GAME
Swinging up a winter steelhead can be difficult. Winter condiotions bring higher flows and colder water temps. The GameChanger easily casts larger winter flies and gets them down into the zone longer increasing your chance of hooking up.
WHICH RIO FLY LINE DO YOU FISH?
Almost all of my reels have RIO lines, but lately I've been fishing with my LTS spey rod and using RIO's INTOUCH SKAGIT MAX GAMECHANGER Shooting Head Spey Line. This line is so powerful and easy to cast, and the fast sinking tip makes it a no-brainer for when I'm fishing for steelhead. It's easy to swing large flies and it's so effortless that it almost makes me think I've mastered the spey casts!
WHAT IS YOUR FAVORITE FISHING TECHNIQUE?
My favorite fishing technique is using dry flies - I love to see the fish take the fly, and as someone who is relatively new to fly fishing it really helps me to work on my accuracy when casting.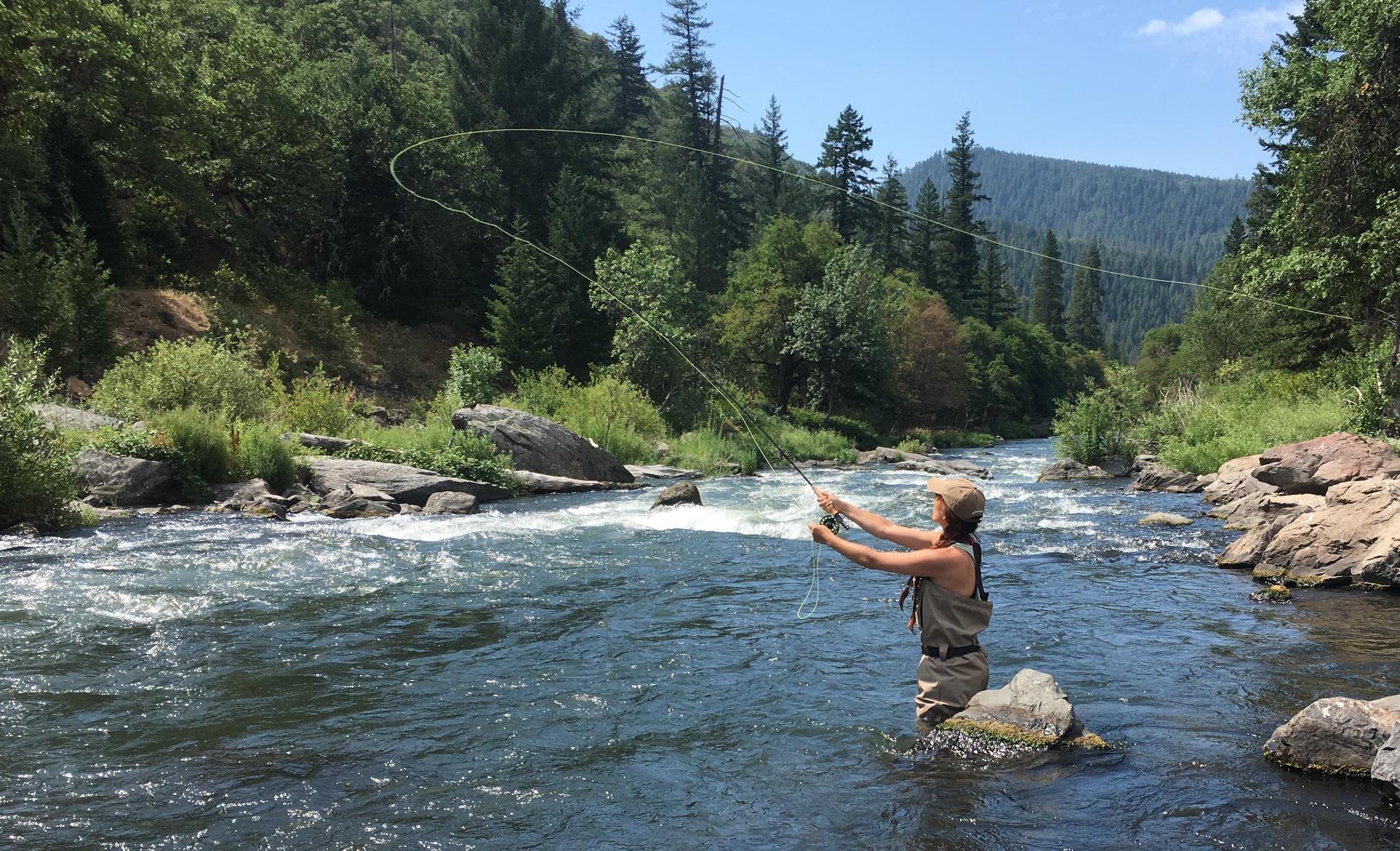 ANY TIPS FOR FELLOW ANGLERS?
My fishing tip for fellow anglers is to enjoy your time out on the water, in any way that is meaningful to you. Whether it's leaving your phone and watch at home, or going with a bunch of buddies and stopping for beers and snacks, enjoy yourself. Even on days when you get skunked and don't catch a single fish, when you're out there to enjoy yourself, every day is a good day.