FEBRUARY FAN OF THE MONTH
Tom Kollodge 2.19.2018
I'm Tom Kollodge from Rochester, Minnesota. I cut my teeth on the small, technical trout streams of the driftless region of SE Minnesota and Western Wisconsin. When I'm not targeting trout, I like chasing smallmouth bass and great lakes steelhead. I also enjoy horseback riding, camping, and hunting. I am a board member of my local Trout Unlimited chapter, and enjoy making a positive impact on my local fishery. Fly fishing has brought me to many incredible places, including the Henry's Fork of the Snake River, 11-mile Canyon of the South Platte, the Madison River, and the Gulf Coast of Louisiana.
MOST MEMORABLE FISHING EXPERIENCE
My most memorable fishing experience took place when I attended college in Michigan, and often explored the Pere Marquette River. I caught my first steelhead, a summer run, in the flies only section of this blue-ribbon stream. I was swinging a small streamer on a floating line during a warm August day. The last thing I expected when my line went tight, was to hear my reel scream and see a steelhead shoot 4 feet out of the water, like a bull busting out of a bucking chute, thrashing its head through the air. The fish proceeded to make two more jumps as it ran 200 yards downstream, going down faster than a bottle of Pepto Bismol after a late-night binge of Taco Bell. After nearly drowning from trying to chase it, eventually I brought the 26" steelhead to hand. My arms trembled with excitement and buck fever. Definitely a fish to remember!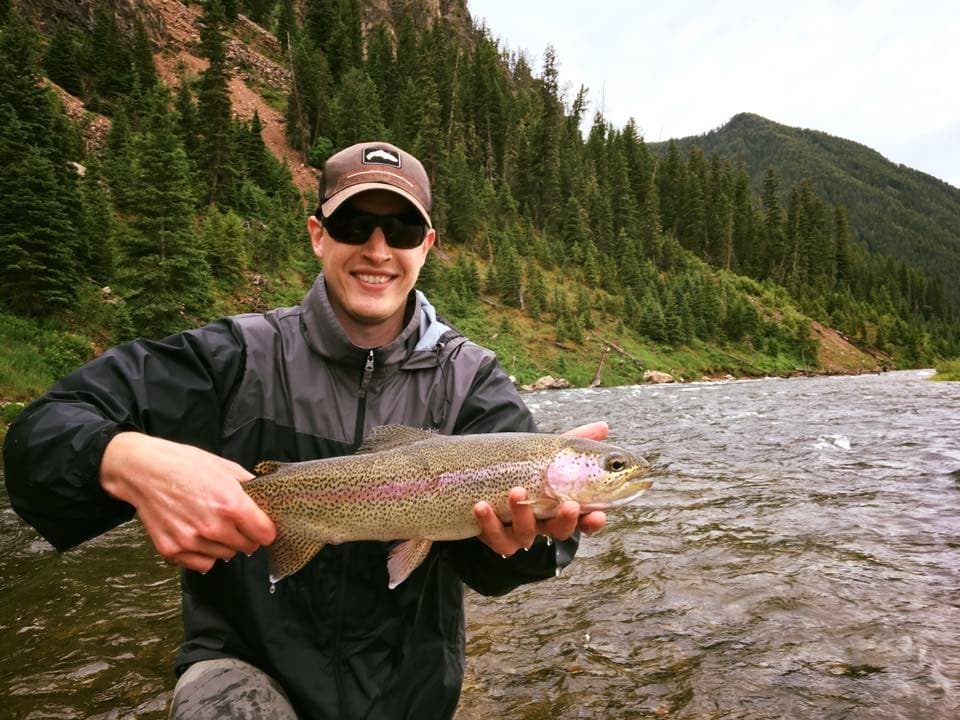 WHICH RIO FLY LINE DO YOU FISH?
My favorite RIO line is the Skagit Max shooting head with InTouch Skagit MOW Tips. I am fairly new to Spey fishing, but love the challenge and finesse of it. Skagit heads are a great way to get into the sport, and I can safely say the Skagit Max has helped me learn the fundamentals tremendously.
SKAGIT MAX
Versatile in all conditions, from heavy tips to skating flies, the Skagit Max will easily perform no matter the fly or water condition.
WHAT'S YOUR FAVORITE FISHING TECHNIQUE?
My favorite methods of fishing are stripping streamers when I'm looking for big fish, or swinging nymphs and wet flies for trout. It depends on when and where I am fishing. Nothing is better and more relaxing than going old school, swinging a soft hackle though a swift riffle and pulling out a nice rainbow.
ANY TIPS FOR FELLOW ANGLERS?
My piece of advice for other anglers is to be on bottom when you are indicator fishing. Make sure your nymph has some weight on it, so it can cut through the current and get deep. Also, be sure you have enough distance between your fly and strike indicator to allow it to sink to the correct depth. Always set it deeper than you think it should be. Your fly does not hang directly straight down from the indicator, instead it extends at an angle. The fly should be occasionally bouncing on bottom when you are nymphing. If it is not bumping bottom, move your strike indicator up a few inches and try a couple more drifts. When nymphing, I prefer to use a shorter, heavier leader, like a 7.5-foot 4x leader and attach one of RIO's tippet rings to the end of it. Then I will tie on 18-24" inches of tippet, in one size smaller (5x) and attach my nymph. If I am fishing a tandem rig, I will attach 12-18" of tippet again in one size smaller (6x). This way if you snag up on bottom, hopefully your weaker tippets will break off first, and at least save your leader, and potentially your upper fly. When you do get snapped off, the tippet ring will allow you to quickly get rigged up again and keep your tapered leader safe.