Drowned Spinners
John S. Barr 9.07.2017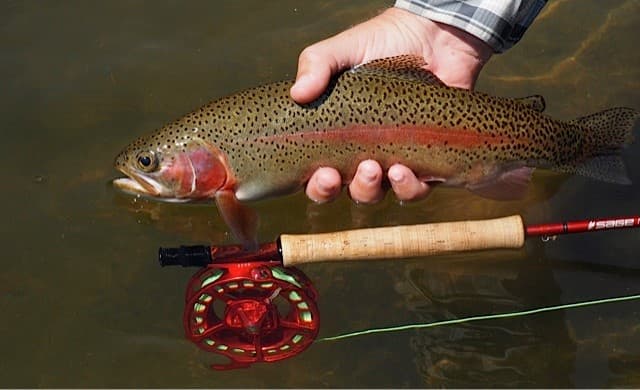 Mayflies hatch, transform into the reproductive stage known as spinners, mate, lay their eggs, die and most fall to the surface creating what fly fishers call a spinner fall. Fishing to trout rising to the floating dead spinners can be exciting and productive. Of great significance because they are so widespread and can hatch throughout the season is that most of the Baetis species do not have a spinner fall. The females crawl on a rock or other structure under the surface and lay their eggs subsurface. Males often accompany the females and after the eggs are laid the spinners die and are carried downriver. Baetis hatches can be heavy, especially in the Spring and Fall and the number of drowned spinners is equally impressive and countless drowned spinners are no doubt eaten by trout.
Drowned Spinner Rig
For rising fish, I pair my 390-4 Sage X rod with a WF3F RIO Perception which will allow easy loading in close and great turnover of 9' 5X Powerflex Trout Leader. Off the leader I'll add some 6X Fluoroflex Plus Tippet and attach my Vis-A-Dun and drowned spinner.
With the exception of Tricos, timing a mayfly spinner fall can be difficult and unpredictable, and I do not know when Baetis lay their eggs. The good news is you don't have to be present for the spinner fall for a spinner pattern to be productive all season long at any time of the day. Drowned spinners become a familiar and readily accepted forage, especially so with Baetis, and many spinners that started out on the surface become drowned and carried downriver subsurface and are readily eaten by trout. A drowned spinner as part of a nymph or hopper-copper-dropper set up can be very effective throughout the season and can be used at any time of day. I carry drowned black bodied spinners in sizes 18-22 and rusty spinners in sizes 12-20. The black patterns are for Tricos, and the rusty for Baetis, PMD, Western Green Drake, Red Quill and others. Spinner come in a variety of colors including olive but with the exception of Tricos most mayflies produce some rusty spinners and it has proven to be an effective color and I just carry black and rusty colored drowned spinner patterns.