Dredging
Peter Morse 9.19.2018
In his only fishing book, "A Jerk On One End", the art critic, social commentator, and historian Robert Hughes likened fishing to sending a line of inquiry deep into the mysterious unconscious to see what we come up with. This really spoke to me and the mystery of what we might engage with when we bomb a fly to 150 feet keeps me going back to the depths. Deep reefs, like the unconscious, can hold a lot of interesting creatures.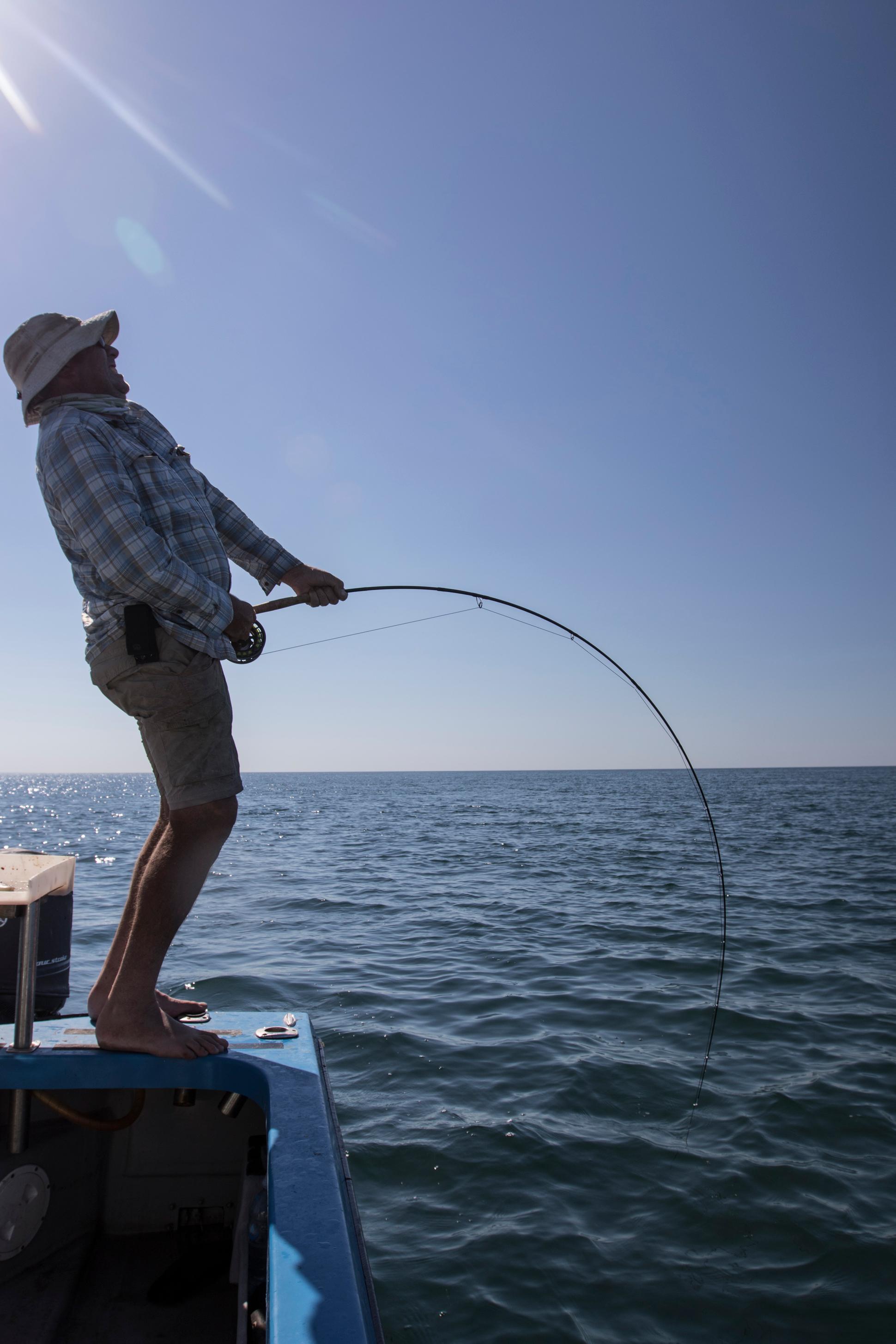 Dredging is used to describe sinking flies down deep, not necessarily (but mostly) on fast sinking lines, but specifically to fish that are well out of view. This is no sight fishing practice and it can cover a lot of different waters and scenarios - I guess on a steelhead river using T14 tips in mid winter is dredging - and in most cases its done because it's the only possible game in town, and the alternative is to not go fishing. Pulling fish off deep reefs and out of deeper water generally has its own list of challenges and sometimes you need to really focus on the positive and just ignore the perceived limitations - those deep reef fish pull like stink and are invariably good eating, additionally a lot of very, very good fish, that are more than worthy of our attention, never come anywhere near the surface let alone onto the flats, and we need to go down to them. Getting over the prejudice and the mental obstacles is usually the biggest hurdle.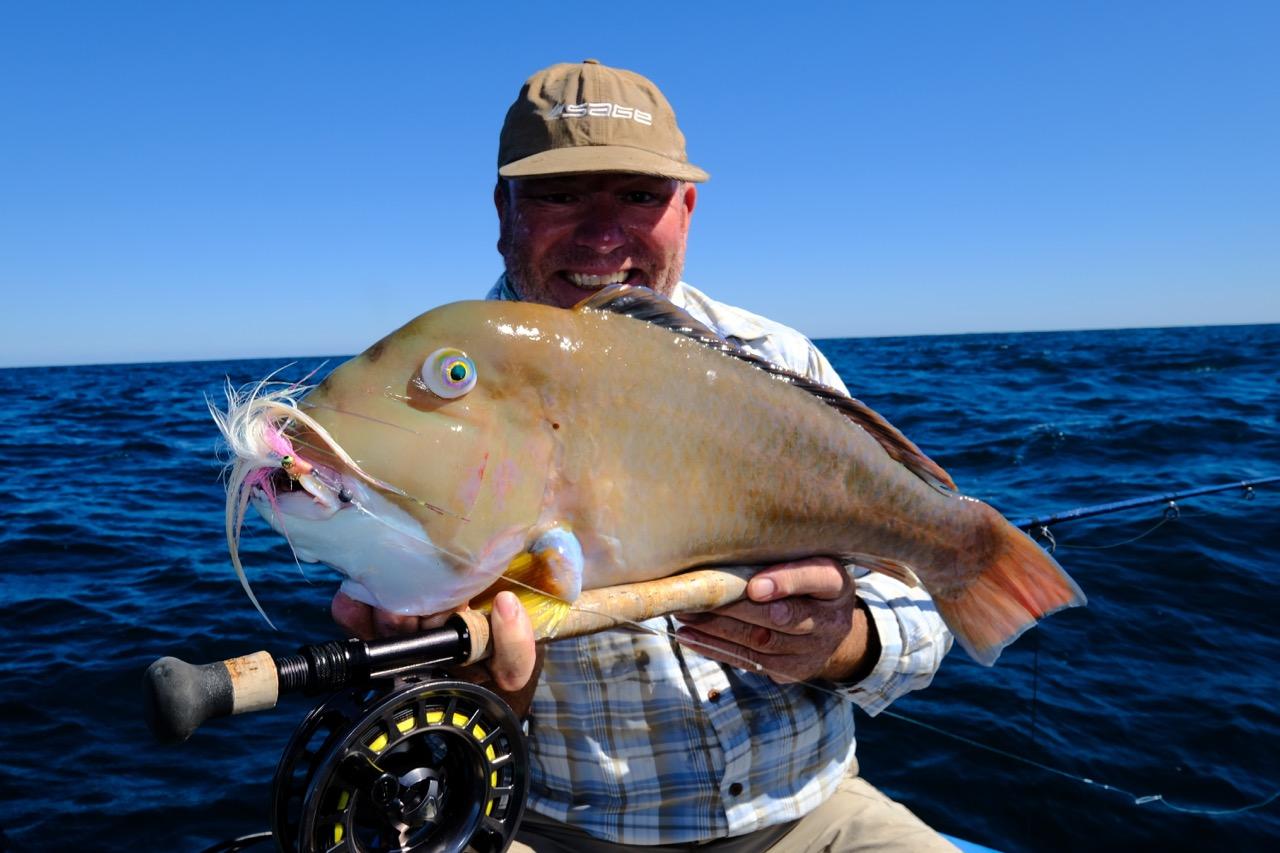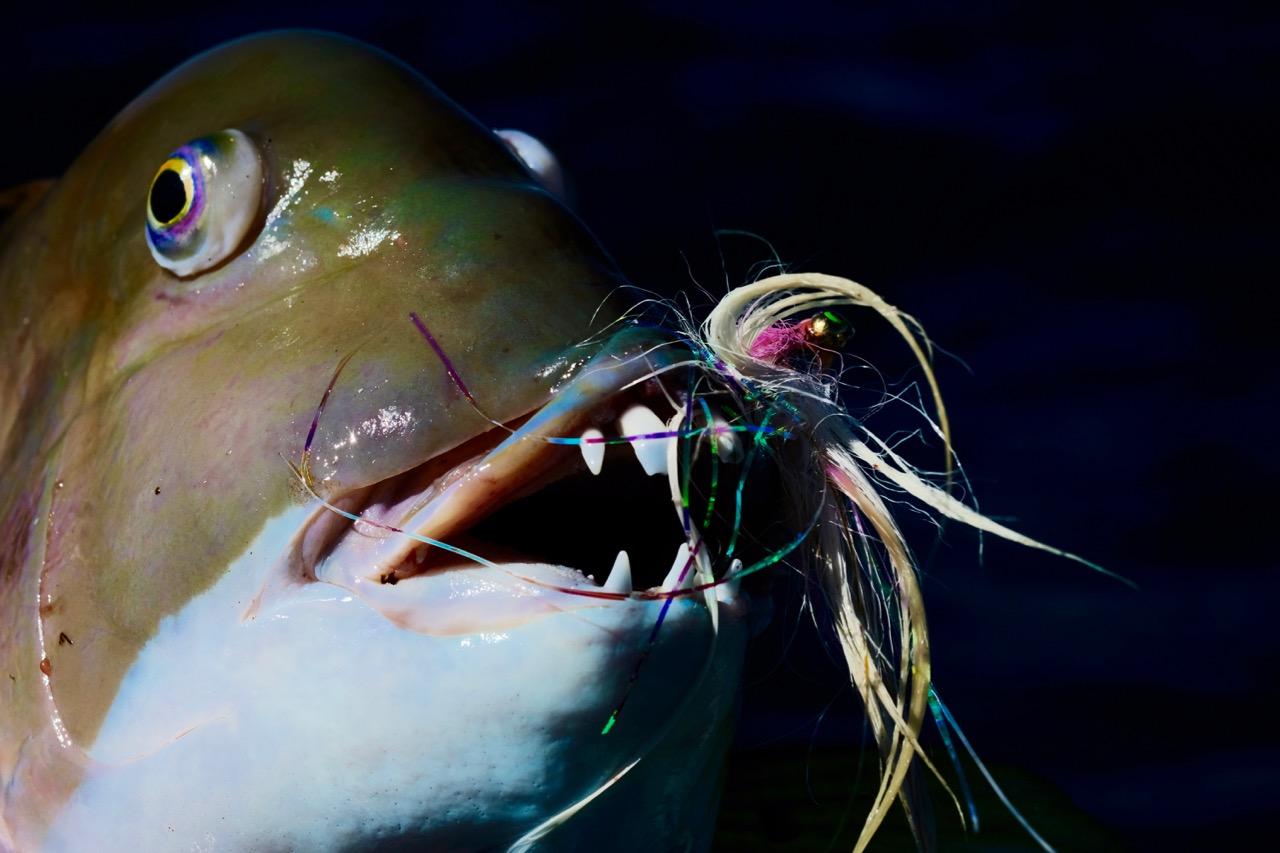 Fly-fishing functions within two dimensions; on the surface these are determined by how far we can cast. The third dimension is depth. In the ocean, (and in big deep rivers), unless we're dealing with surface breaking fish, depth becomes the overwhelming dimension we need to deal with, and success is determined by our willingness to put in the time to get flies through the layers of that dimension. This can take some challenging to tightly held prejudices, especially the one that says if we're not sight fishing we're not really fly fishing. I've found that those who are highly skilled dredgers are also highly skilled anglers, and of course they have a deep well of patience. Good dredging skills aren't blind flogging either, sophisticated electronics are a window into the depths, and to be able to read them is a skill gained through experience – otherwise it can become a pointless flog. We can consider this to be sight fishing, but electronically. Baitfish and hence many predators like structure and if there's schools of bait holding over structure both pelagic and demersal predators will take advantage.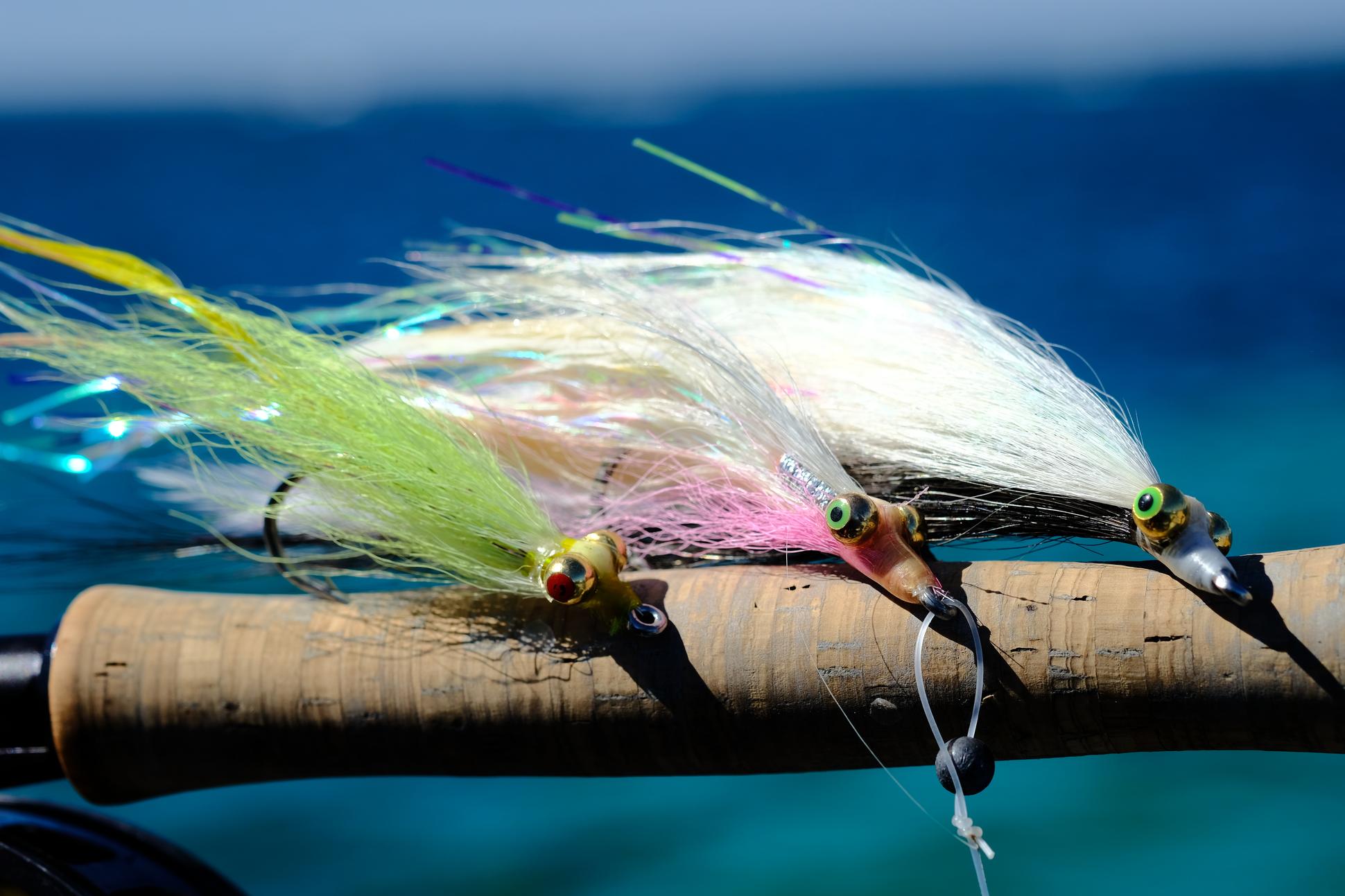 Two developments in fly line technology have also played a huge part in making deep dredging a whole lot more effective. Shooting heads made from the "T's" are not a new product, but it is the first development we need to take advantage of - T8, T11, T14, T17, and T20. The second is the newer IN Touch core technology, in both the "T's", and most importantly in running lines. Older more conventional stretch core lines made bite detection and hook set at 130 feet difficult. Additionally fish at that depth are often reef dwellers that don't travel far up the water column – you need to get your fly down to them, and with 10-20% stretch, assuming of course that you had detected the bite, you're in trouble from the moment you come up tight. Often the fish will manage to get back to the reef before you even had time to take a wrap on the line and haul it away.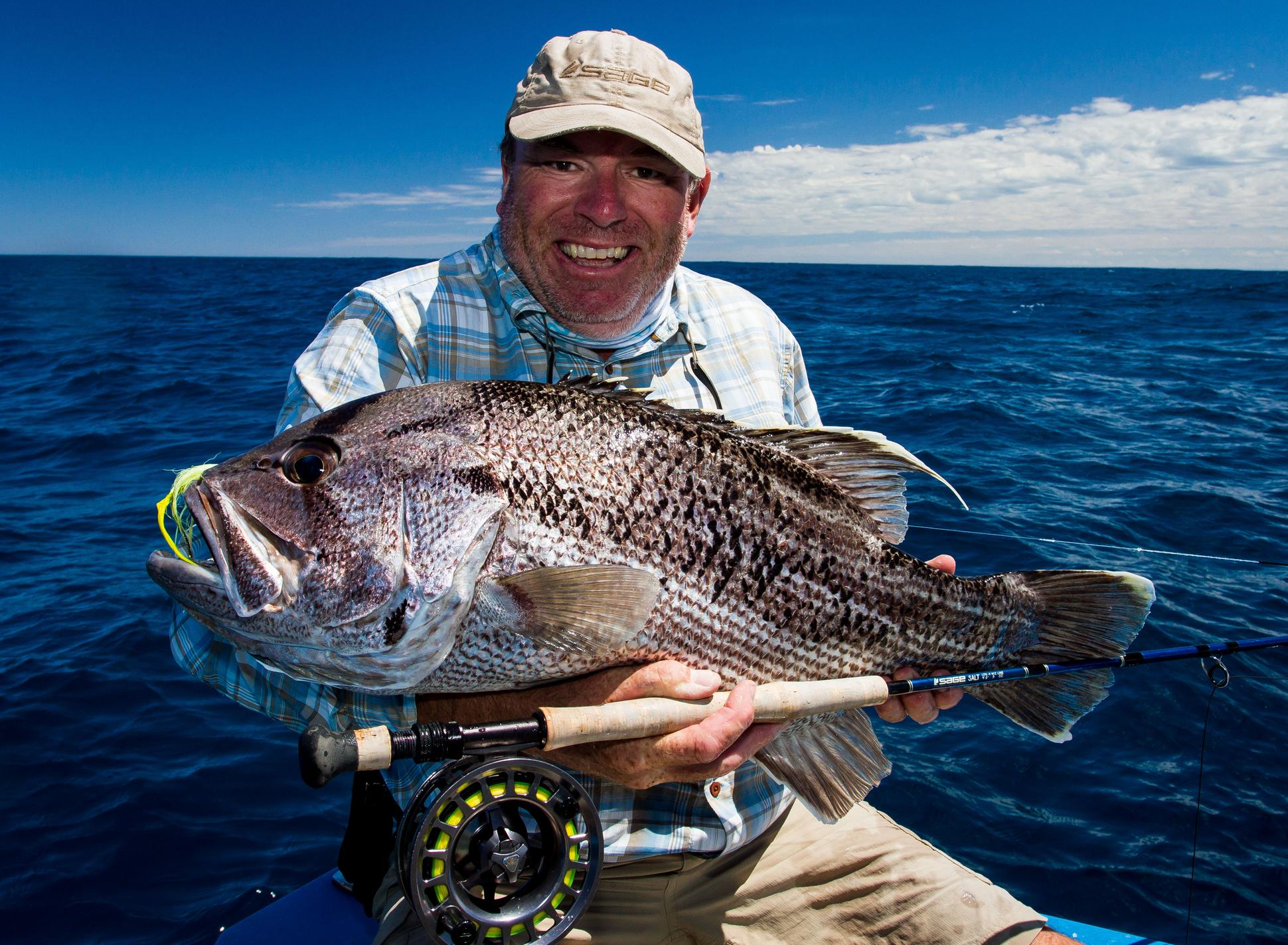 Over the years we've learned that the next single most important part of your set up is the weight of the fly. The fly MUST sink ahead of the line for two reasons. The first is bite detection on the drop, there's an awful lot of feeding on dead and dying baitfish sinking to the bottom going on down there. The second is to avoid the fly tangling in the line as its sinks. This is the usual result when the line is sinking first and pulling the fly down. To this end serious dumbbell eyes, lead wrapped hook shanks, split shot, and even lead sinkers tied into the loop knot are important parts of the set up – and yes you can still cast them provided you are using "enough gun" in the line and rod.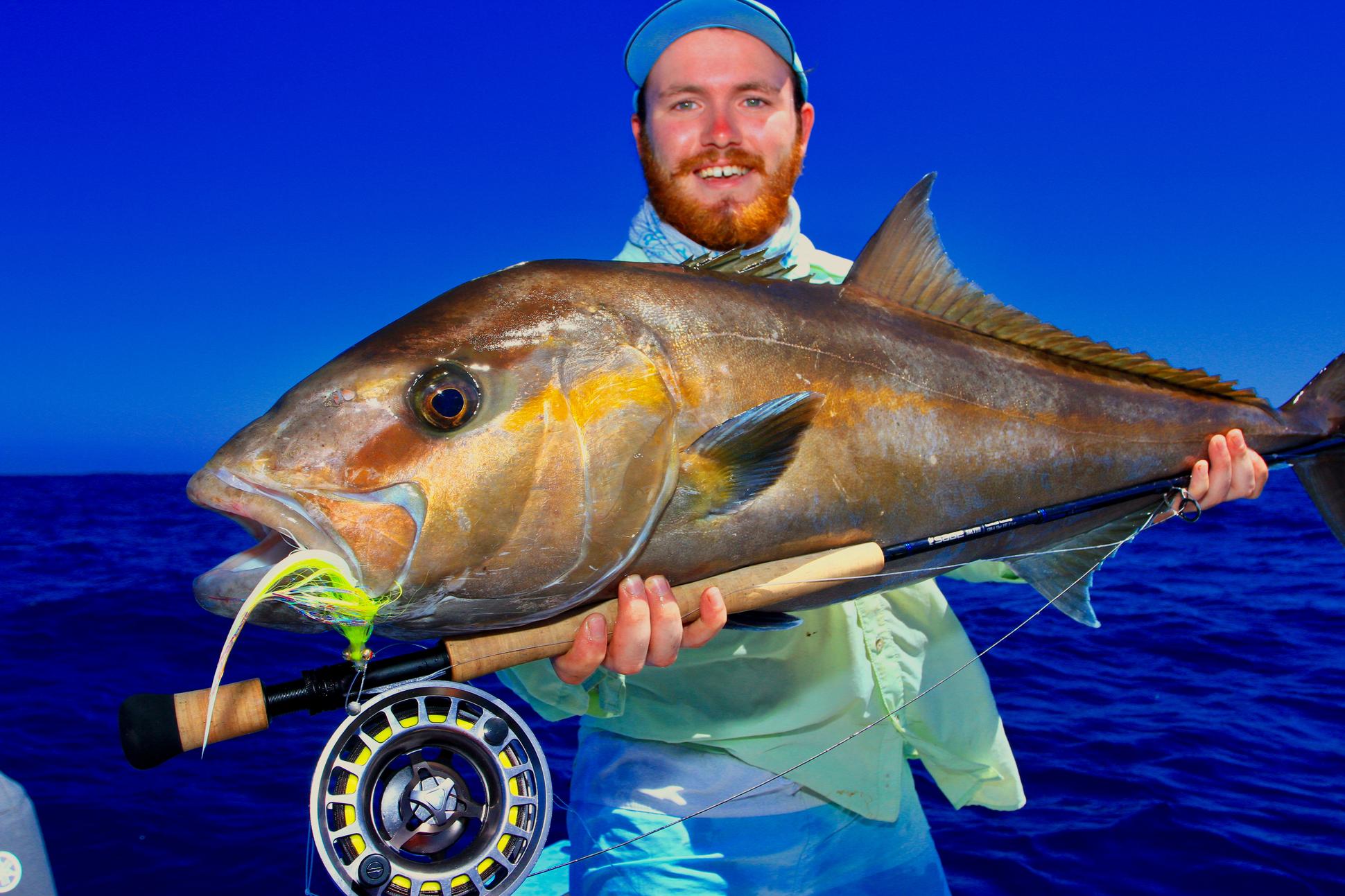 Just about the best thing that can happen when you're dredging is to have the fly touch the bottom and then come away, because now you have an indicator of how much line you're going to need. I'm not a fan of simply dumping line, especially on the first exploratory drops, firstly because you will miss bites "on the drop" from pelagic fish that hang around structure. Secondly because if you miscalculate and dump too much line, those T's will just keep sinking into the reef, and that's probably going to mean much more than just a leader re-rig. Reefs eat the "T's" like a hungry kid eating doughnuts and that's why I prefer shooting heads, you lose a head and it doesn't hurt so much. The Leviathan lines have been a mainstay for me for many years, and for their control I do prefer them over shallower structure, but shooting heads are the best option for the really deep stuff. Because we often just don't know what we're dropping our flies into, I tend to fish 11, 12, and my new favorite, the Sage Salt HD 13 weight. This rod in particular will give you some authority to get fish away from the bottom. My preferred leader is simply 3-4 feet of 30-40lb Rio Fluoroflex, this is not the place for complex leaders. This stuff is really tough. Greater than 40lbs reduces your ability to break off a fly that might get hung up and that's when lines begin to pop – be careful if using 30lb Connect core, give yourself a margin. If you're still not touching bottom, but are managing to get a reasonably vertical sink, loop to loop connect another length of running line.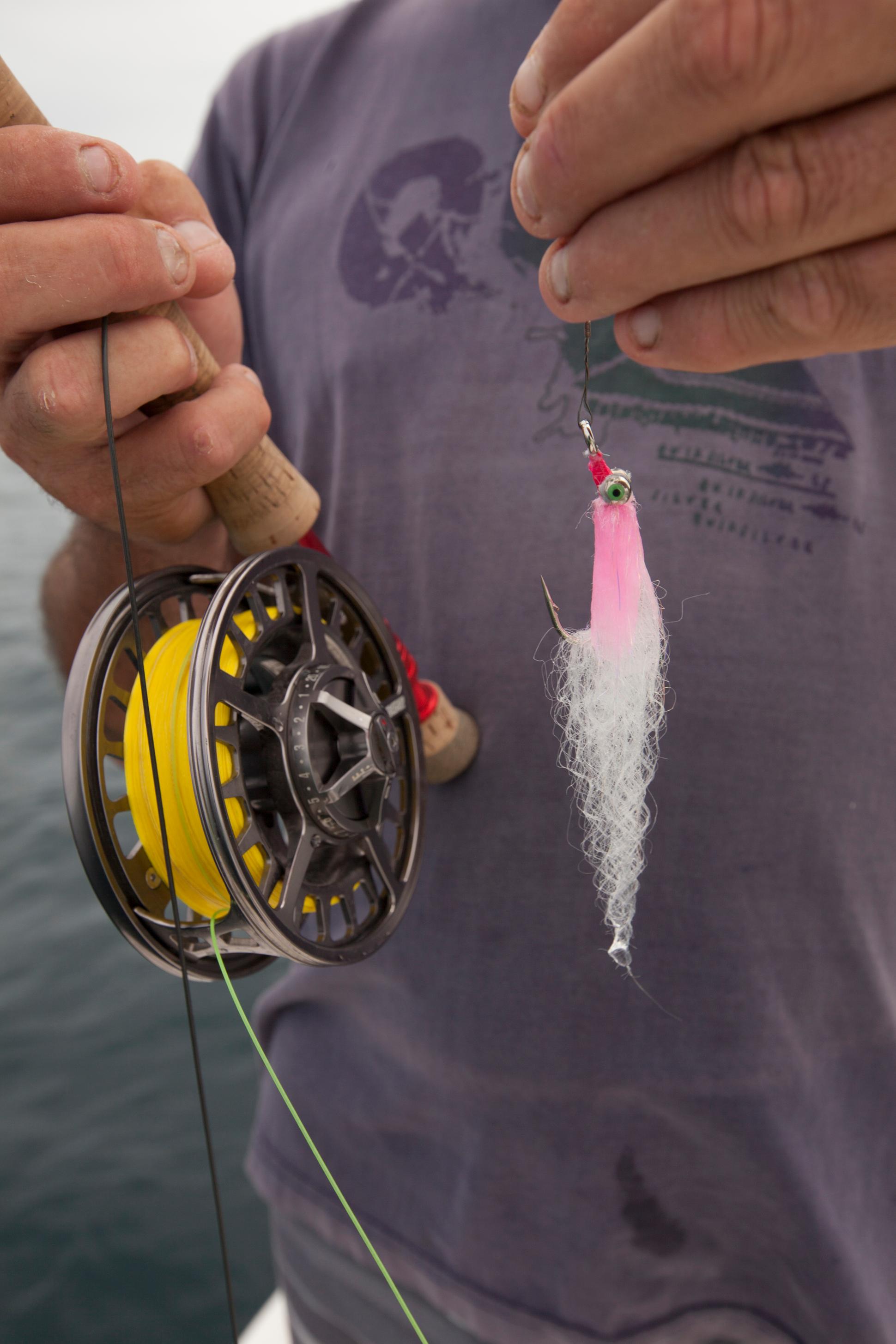 How you work the fly is as important here as it is anywhere. It takes time to get it to the bottom and you want to keep it there for as long as possible. Current, wind, depth and sink rate all need to be calculated. Too much current or wind is going to make it very difficult and a sea anchor can be a big help to slow the drift. Drifting with the fly is the best option, that way you can stay relatively on top of it and work the bottom 20 feet with a series of retrieves and sinks – that is the zone you want to keep your fly in for as long as possible. Short fast strips seem to work best for me on a range of species. We've caught a lot of fish dredging and just last year a friend hooked something half way down on the drop, set the hook and then the fish kept coming at him. I would be lying if I said we weren't surprised when an 80lb black marlin jumped right next to the boat – it threw the hook – but on reflection none of us weren't expecting it, it was going to happen sooner or later.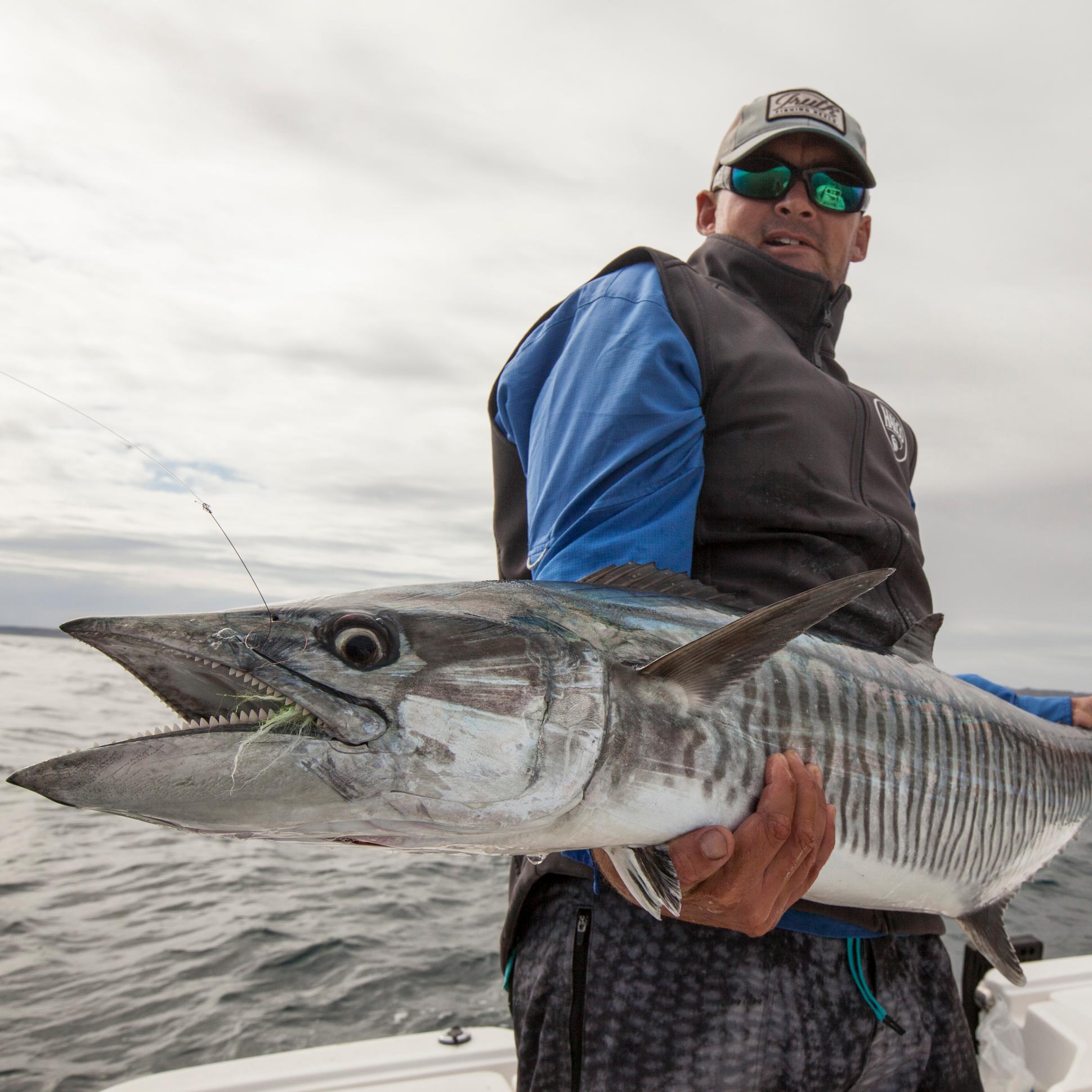 Favorite lines for dredging are Leviathan for water to 60 feet and not too much current - beyond that I'll move to a shooting head of an appropriate "T". I'll try to keep the head at around 30 feet long. Operate on 2 line weights up for shooting heads so on a 10 -11 weight I'll use 28-30 feet of T14, on a #12 - 13 I'll use 28-30 feet of T17 and have gone as high as 600 grains – this will depend on the rod. I'll back this head with connect core running line, but this will depend upon how deep I'm fishing and what I might expect to encounter. If I need to go stronger, I'll use 44lb or even 50lb grip shooter. Using thin line for strength ratio is important because thicker line inhibits the sink rate and creates water pressure that will ride the head back up. Although at times tempting, DO NOT use your gsp backing as a running line, not only is it dangerous but it also tangles very badly.