Behind the Scenes
Mark Steudel 9.27.2017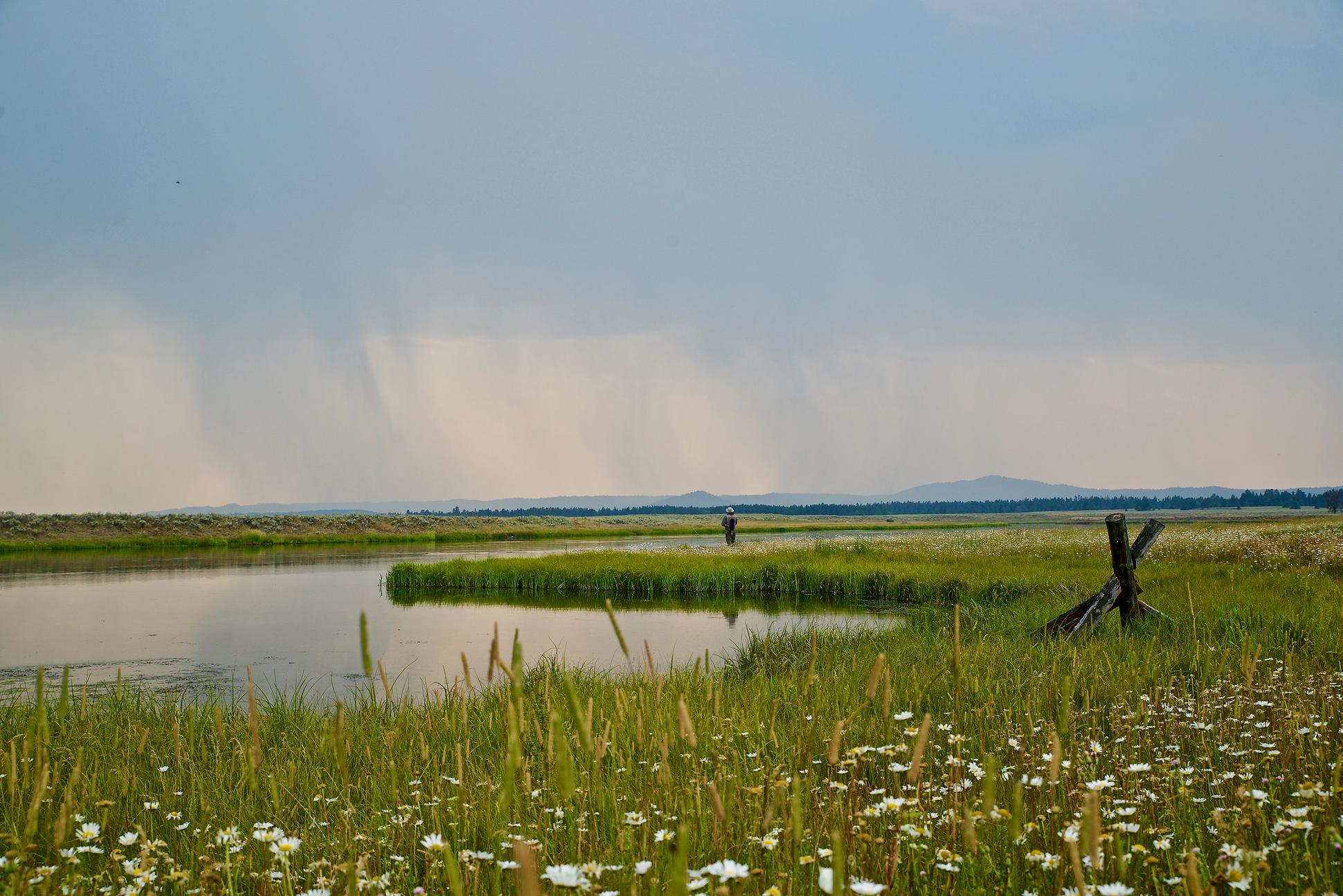 As I stand thigh deep in the famous Henry's Fork river, I hear , "The fish has moved 10 ft up." I apply a little floatant to my fly, strip out another 15 feet, roll cast my line downstream, and pick it up for a cast. The fly lands, I watch it slowly drift along the bank, I wait … I pray.
24 hours earlier I was standing thigh deep in carry-ons at the Salt Lake City airport. As I waited to board, I read the departure signs: Great Falls, Sioux Falls, Twin Falls, ahh there, Idaho Falls. Home to RIO Products and the whole reason why I was waiting to board a plane. I was the lucky winner of the RIO Award in RIO's inaugural Amateur Fly Fishing Film Awards. I was headed to Idaho to claim my prize which included an all expense paid 3 day fishing trip with the RIO crew on their local waters.
Around a table were three fishy looking guys. You know the type
After dropping my gear in my room, I made my way back to the hotel bar. I scanned the room looking for my hosts. Around a table were three fishy looking guys. You know the type, the ones that are just a bit tanner than the rest, permanent sunglasses tan line, and wearing some sort of fishing paraphernalia. As I walked up to them, one of them reached out his hand and in a British accent said, "Are you Mark? Did you have a good flight?", and that's how I first met Simon Gawesworth, casting extraordinaire, brand manager at RIO, and my host for the next 3 days.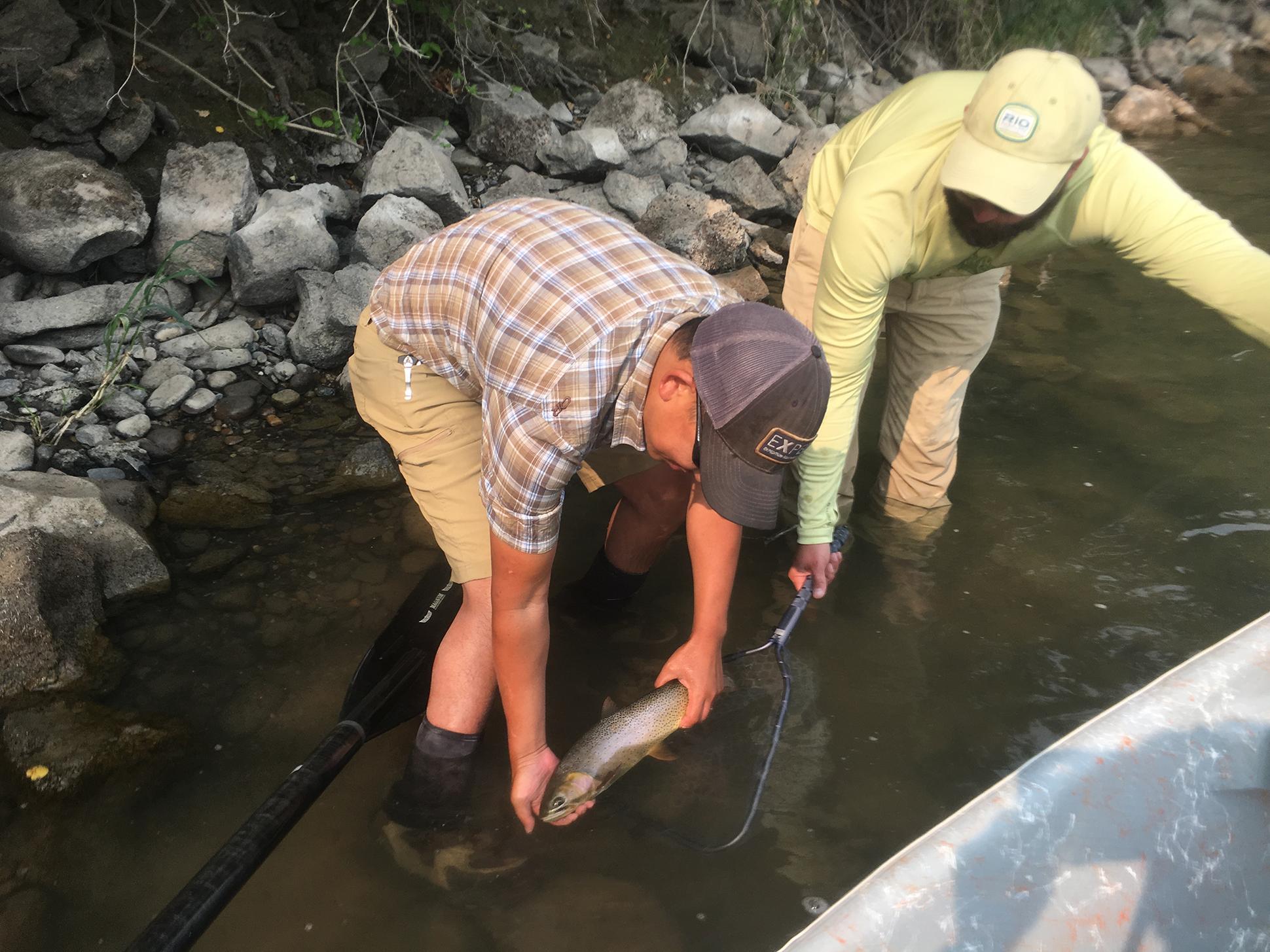 The first day we fished with Philip Chavez, RIO's production planner and scheduler. We traveled to an area on the Henry's Fork called "the Bluffs". Here the river bank rose high enough you could peer down into the water and see fish feeding. We slowly walked the banks looking for some fish. We finally spotted a few fish that were working the bank. Simon and Phil encouraged me to wade out towards to the middle and cast back towards the fish. Apparently there's a certain Henry's Fork mentality that separates die hard Henry's Fork anglers from your average fishermen. It's the idea that you may go out, find one "head", and spend your whole outing working that one fish. Out of towners like myself will flog the river up and down, while the Henry's Fork angler bring their chairs and patiently wait. For the next several hours Simon and Phil spotted for me as I tried to catch the fish. Eventually we decided to move on and see if we could find some more willing fish. Driving along the road we found a school of fish rising. We jumped out of the car and crossed the barb wire fence. There must've been at least 50 fish rising around us, yet none of us could get a bite. After about 40 minutes the hatch died down. Ceding defeat, we returned to the car to eat a late lunch and so I experienced my first Henry's Fork schooling.
While the first day was all about stealth and targeting very specific fish, the second day was the complete opposite.
Zack Dalton, Sales Manager at Far Bank Enterprises, and Marlin Roush, semi-retired R&D product designer at RIO, took me for a day on the South Fork of the Snake river. For those that aren't familiar with the SF of the Snake river, it's big and it's fast. Due to record snow pack, the fishing season had not gotten off to it's normal start. So we settled on Marlin throwing streamers in back, Zack on the sticks, and I would throw big foam flies from the front. Once we were situated Zack got me oriented with fishing on the Snake: Cast down stream, look for the open slots on the bank, and get the fly as close to the shore as possible. Check. I stripped out some line, fired a shot in and the fly landed about 5 - 6 inches from the bank. Thinking I had done well, I looked over at Zack, who immediately beckoned for the rod, he picked it up and fired a cast landing the fly within an inch of the bank. Apparently close meant, really close.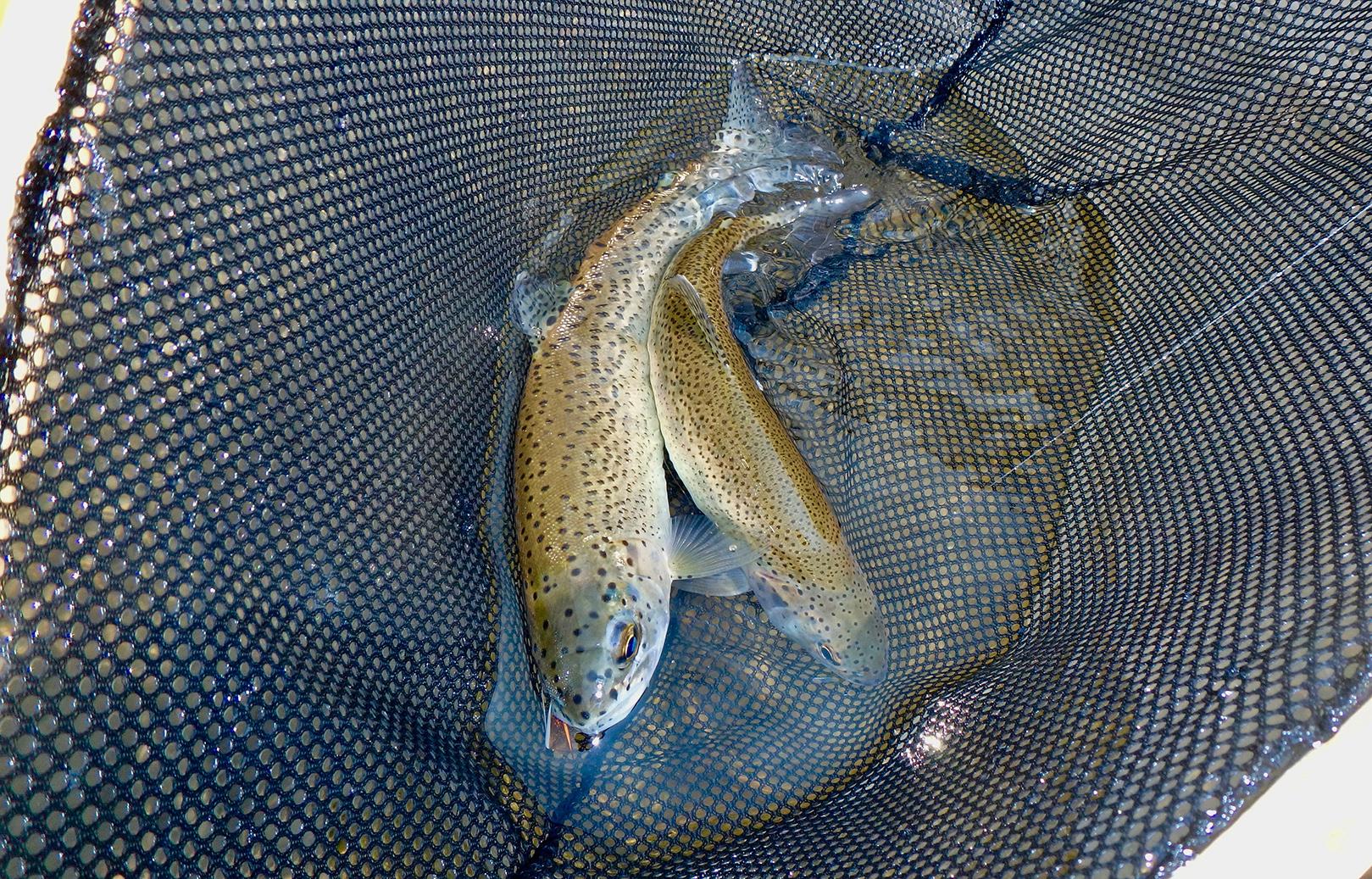 As we started to drift, I realized that not only would I need to fire accurate casts close into the bank, avoiding fly grabbing shrubs, but due to the current speed we were going to be making a LOT of casts. As we all fell into a rhythm we were able to talk about what it's like to work in the fly fishing industry, what is the path to working in RIO's R&D department (as far as I can tell it's a mix of luck and black magic), favorite trips, lots of fish stories, and we even caught some nice fish
as far as I can tell it's a mix of luck and black magic
The last day of fishing was with Wayne Peterson (R&D product designer) and Chris Walker (newly hired R&D product designer). Deciding I wasn't going to die from a heart attack, Wayne and Chris decided we should bushwack into a secret spot. While most people don't take strangers to their secret fishing spots, the fact that we were all equipped with bear spray, I was given the "what to do when you encounter a grizzly bear" talk, we saw lots of fresh bear scat, and we were bushwhacked several miles to the river, it pretty much ensured that I would never be able to find it again, and that anyone I tried to send up there would be eaten by a grizzly bear. Once we finally made it to the river I opted to fish two nymphs, Chris was throwing streamers, and Wayne was throwing dries. As I neared a deep pool the fishing picked up. First fish was a small rainbow. Second fish was a brook trout. Third and fourth fish were a double. As the river dropped into a bottomless pool, there must've been a huge school of fish holding. I got a bunch more doubles before I ended up heading down stream to catch up with Wayne and Chris. The highlight was the last pool we fished. Wayne was swinging streamers into a nice deep bend. He hooked into a fish that wasn't the normal 10 – 12 incher we'd been catching. It turned out to be a beautiful 18" rainbow. He turned to me and said, "Your turn!". I waded out and swung a small muddler minnow through the run. Second or third cast I hooked into a nice 13 – 14"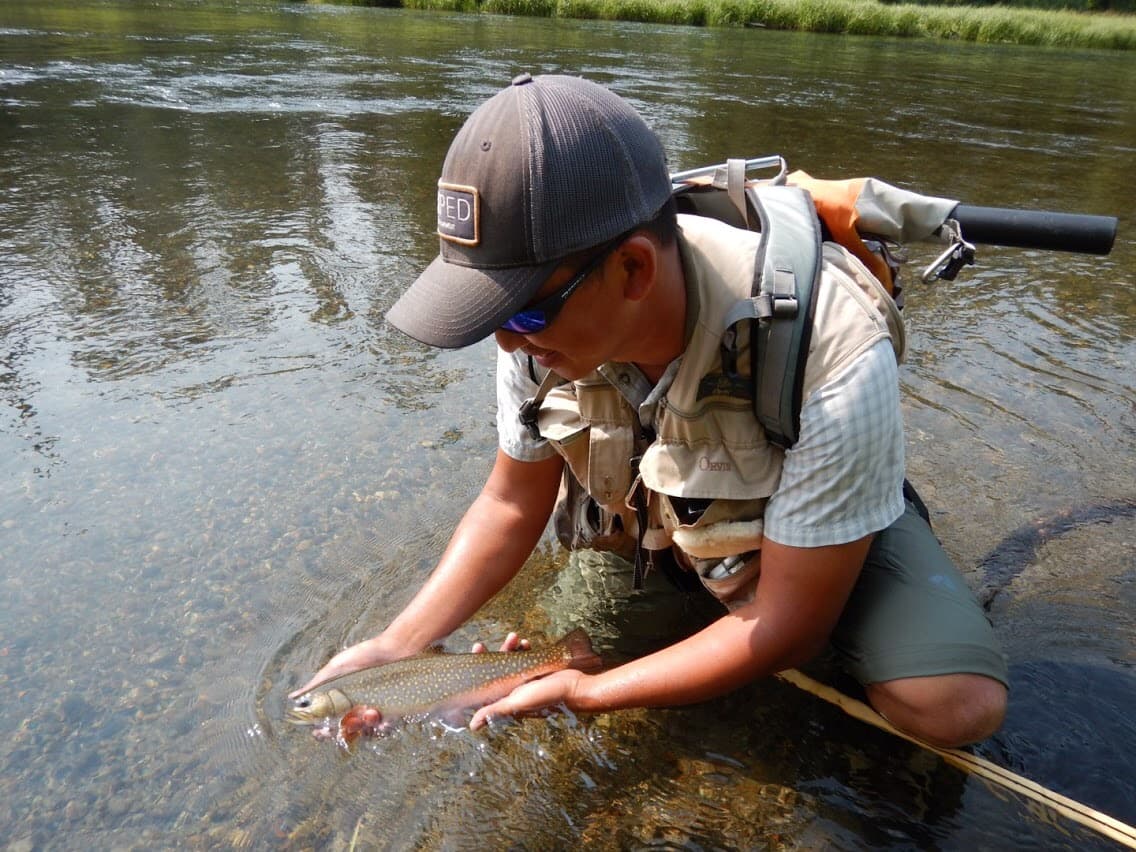 brook trout. I stepped out of the run and Chris took my place also swinging a streamer through and caught another nice fish. I think we ended up rotating through 2 more times before we finally reeled up and headed back. Getting to fish the famous waters around Idaho Falls was a lot of fun, but for me half the fun was getting to hang out "behind the scenes". Watching them film the "How to" videos, hearing funny fishing stories, meeting people who put my favorite flies on the map, learning about the gear, hearing about amazing places they've all fished, and meeting all the people that make the products we love: R&D product developers, marketing people, brand managers, product ambassadors, IT managers, sales reps, etc. For those wondering what it's like to go fishing with them: It's a bit like fishing with guides, but it's a lot like fishing with your friends.
"What fly are you trying now?" Simon calls out. Shoot, I have no idea, "The last one I haven't tried." I lamely reply. This was the last fly from the shop, a small nymph, size 18. I was fishing this nymph on a long leader without an indicator. "He's right here at this rock, 5 ft from the bank." I strip some line out, and cast the fly right into the slot. "That's it!" Simon calls from the bank. I watch my line carefully looking for any pause or movement. Suddenly I see the leader start to move, I raise my rod tip, and for a brief moment I am connected to that trout … at least that's what I keep telling myself.