CEO Travis Campbell on Bristol Bay
rioproducts 7.16.2012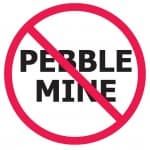 As a fly fishing company we are a natural resource dependent business and, as such, it is in our best interest to help foster healthy fisheries, clean water, and abundant access. Simply stated, no fish, no fishing, no us. The fly fishing industry is relatively small, yet we believe our shared passion and action can help determine the fate of causes. Sometimes we champion causes in familiar home waters, however, there are times when we need to protect resources in some far off part of the world.
Bristol Bay in Alaska is one of those far off places that deserve our protection. It holds a special place in my heart because one of my brothers guided in the region for nine years and I have been lucky enough to fish there a time or two. As I typed this I got chills down my spine as I thought about a day salmon fishing in the region with my Dad and brother. It's that special of a place.
Bristol Bay is currently under threat from an effort to develop one of the largest open pit mines ever conceived. The Pebble mine would be developed at the headwaters of the Kvichak and Nushagak rivers – two world class salmon and trout producing rivers. An excellent description of the mine and its scale is provided by Trout Unlimited at the following link – www.SaveBristolBay.org.
Our organization first got involved with the effort to oppose the Pebble mine in 2006 and we now find ourselves at another critical juncture in the process. The EPA recently completed a major watershed assessment of the region and the research came out overwhelmingly supporting the belief that the mine would pose a major threat to the fish and wildlife of the region. The comment period for the watershed assessment is open until July 23rd and I encourage you to take a moment to write to President Obama and your congressional delegation to let them know you support the EPA and its assessment. Click here to take action – www.SaveBristolBay.org/TakeAction.
Thank you from all of us that care about this amazing place. Travis