British Columbia Steelhead
By April Vokey 9.15.2011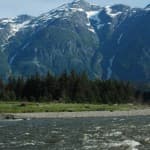 It wasn't until I started fishing (during the struggles and interesting phase of my mid-teens) that I truly understood just how lucky I was to have been born and raised in British Columbia. I knew the obvious; our mountains are beautiful, we have plenty of undammed rivers, and our hockey team brought our province together… What I didn't know, was just how fortunate we were to possess one of the best wild steelhead destinations in the world.
Naturally, as I grew as an angler and matured into a young woman, it was inevitable that I would find myself stumbling across musty books with downturned pages, stamped with legendary print about the elusive BC steelhead and the fascinating men who searched for them.
"Coastal" the books would read – coastal? There were a lot of coasts on this planet so I didn't pay the word any interest.
Admittedly, it wasn't until I actually sat back one day and put all the pieces together that it truly made sense. Pacific… Coastal… Anadromous… Wild… Suddenly there I was, 16 and astonished that I had managed to be so lucky to have been born and raised in one of the most enviable places on Earth. British Columbia is home to some of the largest and strongest steelhead in the world. These wild anadromous (ocean going) rainbow trout, free of hatcheries, adipose clippings and human handling attract a passionate and unique group of anglers and conservationists.
These steelhead have infected anglers' hearts and minds since the beginning of sport fishing time – plaguing fishermen with ferocious takes, acrobatic leaps, "straight to backing" runs, and a spirit that cannot be tamed or broken. BC steelhead are the wild horses of the sea and they sure put up a fight when one of us tries to 'saddle up'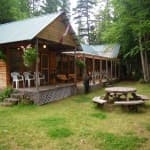 Dean River Lodge is nestled in a beautiful wilderness setting near the head of the Dean Channel in British Columbia, Canada.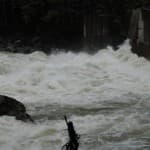 A massive canyon divides the river into two distinct sections.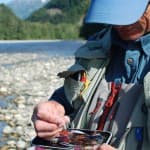 Truth be told, there are many fascinating rivers in BC that house wild steelhead, but there are few as magical as the Dean River. Stories of these Dean River steelhead taunt anglers worldwide. Tales of fearless fish, sea-lice covered scales, ghostly transparent fins and aggressive takes that churn both the water and the guts of battling anglers, play with many of our heads and tease us into booking trips. So it was inevitable that, last year when I had the opportunity to begin guiding on such a playground, I had to
take the job
.
Only a few miles upstream of the Dean's entry into salt, and where fellow guide Steve Morrow and I operate, a deadly canyon divides the river into two distinct sections. These sections are referred to as "below the canyon" and "above the canyon". We operate below the canyon where the fish are less than a mile from the ocean; their body's unscathed, pumping with rage and aggression. There is no setting of hooks needed below the canyon as the fish are usually the ones calling the shots.
Unlike holding fish, where the angler must pursue steelhead that are resting in slower water behind boulders and in gentle seams, the lower Dean River steelhead move at a determined pace and don't require spot hopping or "first crack" at the run. Every day here is exciting and I will never tire of watching anglers tremble as they stutter on their words while they stare in shock at their slack line and bent out hooks.
Spey rods are the preference among guides and fishers on the Dean. Eight or nine weight double handed rods and large reels providing capacity for generous amounts of backing are necessary in the event that an angler hooks into a monster steelhead or a fresh Chinook. Flies range from large to small and bright to dark, depending on the clarity of the water… however it is the notorious pink fly that tends to produce the most fish (enhanced confidence perhaps?) Even a large pink fly topped with foam, skated across the water's surface is enough to frenzy these fish into biting.
The famous "steelhead swing" is the favorite presentation amongst anglers who fish out West, and many are hard pressed to fish any other method. The swinging presentation consists of a cast across from, or slightly downstream from the angler. Maintaining a reasonable amount of tension, the line is held tight to the fly as it "swings" through the current, flaunting and teasing itself through the lies and waiting noses of both holding and moving steelhead and back into shore. The swing also ensures direct contact to the fly, in the event that a fish takes. These takes are often vicious and heart-stopping, consisting of an always surprising and unsuspecting jolt that makes every fisher's heart jump, instantly followed by a cartwheeling, reel-screaming fish that spool many an angler. The ferocious battles are one of the many reasons that make the Dean so special.
Spey fishing is the preferred method of covering large swaths of river here, as a decent Spey cast can often clear the water's distance and avoid getting tangled up in trees that would typically pose an obstacle to a single hand caster's back cast. These attributes have made Spey fishing for steelhead increasingly popular over the past several years. Recently we invited Simon Gawesworth from RIO to join us for a week on the Dean to participate with one of our groups, and experience the adrenaline packed days that Stevie and I have become so accustomed to. Here are a few photos from that action-packed, fish-filled week. Enjoy….