Bonefish & Beginners
By Capt. Sarah Gardner 10.18.2012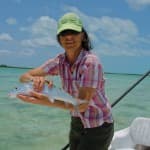 MONDAY I was up way before the 4:30 am alarm and jumped on van transport from hotel to Norfolk International Airport. I felt out of sorts, because I was traveling without Brian. The flight down went quickly and the transfer to Jet Blue in Ft. Lauderdale was easy, despite having to recheck bags. Nassau is absolutely unrecognizable since my first Bahamas bonefish trip, over 15 years ago.
On this trip, I was a guest of the Bahamas Ministry of Tourism, who had put together a group of fishing industry professionals for a whirl wind bonefish tour. BMT wanted to showcase some newer lodges that were also couples friendly. As the jet landed I noticed construction everywhere. Someone forgot to tell the Bahamians about the recession!
The group was met at Nassau Int'l by trip leaders Earl Miller and Karen Wring. They work for Bahamas Ministry of Tourism and Aviation, so we were able to bypass the lines at customs. It took about 20 minutes to reach the Sheraton Nassau Beach Resort, which sits in the middle of a billion dollar development project.
After introductions and interviews, Earl drove us to a restaurant named "Going Bananas" which is located across the harbor from Atlantis. It was the first of many fabulous Bahamian meals. I gorged on grilled snapper, plantains, beans and rice. After eating, "Bonefish Simon" gave us an introduction to day trips options around Nassau. I was so stuffed and exhausted that I hardly noticed my fabulous room.
TUESDAY We woke up to wind and rain. The clouds and bumpy air followed us to Andros Island, where our chartered plane touched down briefly on the north runway, oops wrong one, then made the jump to South Andros. A quick van ride got us to Swains Cay Lodge, where owner, Cynthia was waiting with an amazing Bahamas breakfast that included fish stew and Johnny cake. We had a few minutes to assemble tackle, pack boat lunches and wade out to our skiff guides. Finally, it was time to chase bones!
I teamed up with local guide Mark Bastien and Mid Atlantic Fly Fishing Magazine editor Paul Rouse, who had never fished in saltwater before. Being a "mother hen" I picked Paul for the first day of fishing, so he could use my tackle and I could coach him if needed. Captain Mark was an absolute pro, spotting fish way out, but sneaking us within easy casts of legendary Andros bones. I used a 8wt. Sage ONE teamed with a
RIO bonefish line
and
RIO bonefish leader
. This was the ultimate flats weapon, loading easily, yet gently dropping the fly with precision.
Initially, Paul refused to fish, fearing his skill level wasn't bone worthy. But, after watching me catch several in quick order and listening to me plead with him not to skip this incredible opportunity, Paul reluctantly took my rod. I made him take a few practice casts, so he could get a feel for the gear, and Mark could secretly assess his skill. "Yo, Paul, I think that rod likes you!" His arm adapted to the flats, before his eyes did, but Paul was able to translate Mark's directions into well placed casts. Within 15 minutes Paul had released his first bone and become an instant flats addict. The trash talk started soon after! It felt like the three of us had fished together for years, joking and releasing our way along the flats, until a nasty thunder storm chased us back to the lodge
As lightning cracked above, we munched on conch fritters and drank Kalik beers on Swain's wrap-around porch. The storm offered the first down time of the trip, giving us a chance to bond and swap fish stories with colleagues. I got a happy fish report from another writer, who had borrowed my 9wt Xi3, teamed with a
RIO bonefish line.