Beyond a WF-F
by Diana Rudolph 1.17.2013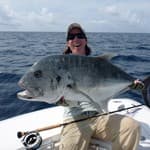 A sink tip works well for tossing big flashy profile flies"
Too windy, too calm; the tide was weak, the tide was strong; too cold, too warm. Shall I continue? These are conditions that all anglers have experienced. Thankfully, those rare but divine occasions exist when everything falls into place; but more often than not, some factor or factors come into play that sabotage the "perfect" fishing day. We can't control the weather or the moon phases, but we can prepare for them, and this planning can turn a slow fishing day into something much more interesting and perhaps even unforgettable.
When fishing home waters, it is much easier to organize and arrange the appropriate tackle for a day on the water, because various lines, leaders and flies are usually at hand or available from a nearby shop. Not so for the traveling angler, especially when visiting remote locales. While it helps to read fishing reports and research conditions, the fact is, they change and one fly line won't do it all. It is important to have an open mind and to think beyond the standard weight forward floater, which saltwater anglers hold in such high regard.
After recently spending three and a half weeks in Queensland, Australia humping around fifty plus pounds of luggage (most of which was tackle), I now realize that an angler cannot be too prepared. I carried multiple rods and complementary reels ranging from 8 through 14 weights, extra backing, numerous fly lines, leader material and boxes of flies. Despite this, I still found myself thinking, "I wish I had this line or that fly." So, what do you bring? My answer is bring it all or at least as many fly lines as possible.
A weight forward floater is the ultimate sight fishing line but it is not always ideal. Perhaps the wind starts howling, the flats blow out and the only option is fishing deeper water among coral heads or dredging in a channel. I'll choose sinking the fly over sitting in a hotel room planning dinner. Often overshadowed by the sheer number and types of floating lines available,
RIO's Tropical sink tips, intermediates
and full sinking lines are essential additions to any gear bag.
When sight fishing in deeper water, I like to use a short sink tip line like the Tropical Series General Purpose Saltwater WF-F/I. The 10 foot clear tip enables me to recast or reposition the fly quickly for the next shot. Don't be afraid to cut it back a bit to tune it to your preferences. These lines work very well when casting big, bulky flies into the wind. Wet loading these large flies with a sink tip is a simple and effective way to catapult them where they need to go. Interestingly, I also like to use a short sink tip with very buoyant poppers. When moved quickly, the popper plunges erratically and leaves irresistible bubble trails.
Slow sinking or full intermediate lines cast with ease and allow the angler to cover water effectively. The
General Purpose Saltwater WF-I/I
is the perfect choice when fishing moderately deep flats where fish appear throughout the water column. The fly sinks at a uniform rate and may be stripped in a more fluid manner than a heavy fly on a long leader and floating line.
When dredging in deep water, the Tropical Series Leviathan and
Outbound Custom lines
will get the fly down and dirty. I prefer an integrated full sinking line when blind casting around coral heads or bommies. The smooth coating and absence of knots and loops ensure that the lines don't tangle. They are offered in many sink rates to load any modern saltwater fly rod. Again, the lengths may be adjusted for personal casting preferences and/or fishing conditions.
A weight forward floater can do a lot, but it can't do it all. Think outside of the box and carry a few extra lines on your next adventure.