Baja Spa Day
By Capt. Sarah Gardner 12.01.2011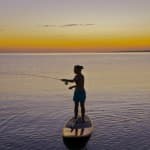 On a recent hosted trip to Baja, I took the opportunity to test my self by combining two of my favorite activities, surfing and fly fishing. Putting these dissimilar sports together, required some thought, simplification and a touch of good balance.
It was our group's last day of fishing; I handed out boat assignments and stood back as the cooler packing frenzy began. Each pair of anglers filled their cooler with lunches and plenty of liquid for a day spent in hot Baja sun. When my bundle of rods was not loaded into the Suburban, my plan to play hooky was discovered. "Taking a spa day?", jabbed one of the guys as they piled into the van. "I'll show you Spa" I muttered as my plan went into full execution.
The stars were fading as I rolled back the barn doors and lumbered onto the beach with equipment in hand. My gear consisted of an eight-weight outfit, 12' epoxy stand up paddle board (SUP), paddle, fingernail clippers and two flies that were stuck to a Velcro strap around my ankle. That's it.
A breath of chilly air dropped down out of the mountains behind the lodge as I slid the board into the water and gently climbed aboard on my knees. The bright red battle ship board hardly rippled the water as I stood up and started paddling parallel to the beach, scanning for life. I quietly paddled to an area with stony bottom that seemed to attract more bait then open sandy areas. Again, no ripples emanated from the board as I quietly replaced the rod lying between my feet with the paddle. Every fish swirl and bait splash made a glowing pink target for the first clumsy casts. Within a few minutes the process was much more comfortable, each presentation got longer and more accurate. It was pure joy just to cast and watch the sun rise over the Sea of Cortez.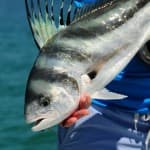 Sadly, even though many small rooster fish were caught in that area all week by our guys fishing from the beach I never hooked one from the SUP on this first experimental trip. I am not disappointed, though, as it was a blast! I didn't get wet, caught a few smaller fish, and watched an incredible sun rise, and it gives me a great goal for next year.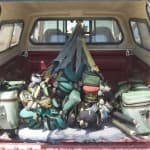 My meditative state of cast, retrieve and repeat was rudely interrupted by the first bite. I didn't get the "Nantucket sleigh ride" I had anticipated, but releasing fish was easier then I had expected. My first catch was a needle fish, followed by several cornet fish and then a green jack that released its self early.
Despite my being new to the fly/ SUP combination, my success was not an accident. I used my favorite light Baja boat outfit which was an eight weight teamed with a RIO Tropical Outbound intermediate and a RIO 10ft 20Lb tapered leader. When combine with a stripping basket, it is also a great rig for wading the shoreline at Baja Joe's for roosters and other critters that roam the surf zone. Floating and intermediate versions worked perfectly in both situations and I was very happy using an intermediate on the SUP. After the cast I would tuck the rod under my arm and hand over hand retrieve the line and allow it to lie at my feet. Fly line and foot tangles are a non-issue on SUPs. If you lift a foot, you're going swimming!