Babies of Campeche
by Cathy Beck 5.13.2015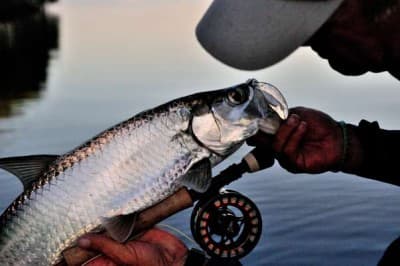 It's 6 a.m. in Campeche, Mexico, and in the background I can see the lights of a Starbucks, a soon-to-be busy highway, and the hotel that I will call home for the next three days. Around me are a group of guides setting up rods, loading ice coolers into flats boats and promising us that the weather is going to be perfect. Soon we leave the shoreline behind and head into the darkness – our day is starting
The boat run is smooth as the morning sun begins to rise and about thirty minutes later we pull into a mangrove lined shoreline. Around us is nothing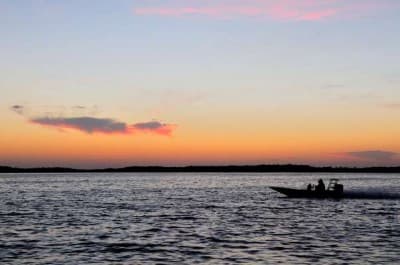 but space, water flat as a pancake, and the lure of rolling tarpon. My guide is Miquel Encalada, who has Tarpon Bay Fly Fishing. Assisting is Jorge Ortiz, who takes a place beside me on the deck. The only sounds are bird calls and the quite push of the push pole. Sixty feet ahead we see our first tarpon, rolling silver on the surface. The sight gets my adrenaline going, and now the fish is coming toward us. As the distance closes in we realize that he's not alone, as there are several more fish traveling with him gracefully rolling and I hear the familiar instructions from the polling platform, " Get ready, cast now."
I quickly make my cast and watch as the tarpon toad lands about ten feet in front of a small tarpon leading the group. Miquel quietly says, " Perfect. Strip now." I put my rod tip close to the water and make my first retrieve, there would not be a need for a second as the fish explodes on the fly. Miquel shouts to set the hook as my rod tip rises up in response and I miss the hook-up. Once a trout fishermen always a trout fishermen. My excuse is lame and I know better. I know to keep the tip down and set the hook with my line hand. The fifteen pound tarpon makes one jump as the now free fly leaves the fish. I shake my head and apologize as Miquel and Jorge laugh. Miquel says not to worry there will be more as we move on.
Over the years I have been blessed to have landed a number of big, 100 pound plus tarpon, and I have enjoyed every one but there's something special about these smaller fish that weigh in at ten to thirty pounds. Called babies, but to a trout fishermen who measures a trout in inches not pounds, a ten pound fish is not a baby. Add to that that they jump more than their larger counterparts and at the end of the day I don't' feel beat up. I once had a tarpon that went over the one hundred mark and after fighting him for what seemed like an eternity he finally came to the boat, and then I watched in horror as the hook let go and my fish slipped away into the darkness of the ocean. For the next hour I laid stretched out on the bench seat in the boat wondering if he was as exhausted as I was. Yes, the babies are a lot more less exhausting.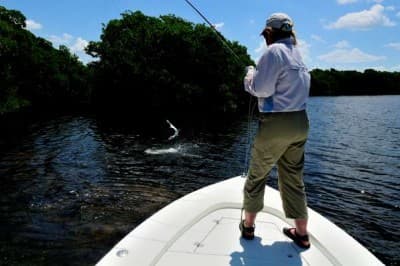 The key to having fun with these energetic fish is to use lighter tackle scaled to the size of the fish. When Sage introduced their new Method, I quickly fell in love with it. Matched with the right fly line, it's feather light and extremely accurate. On this trip I had the option of either a six weight or an eight weight but with the little wind that we had I spent most of my time with the six matched with a
RIO Tropical Redfish
. The short head on the Redfish line turned over the tarpon flies easily and helped in the wind. It's matched the Method perfectly. Because a lot of my casts were in and under mangroves I chose a six foot leader with a forty pound fluro shock tippet. My choice of flies is simple as long it includes a selection of chartreuse and white, black or black and purple color variations. Unweighted flies in size 1/0 generally are the ticket, but small poppers will sometimes bring the tarpon to the surface – which is really a hoot.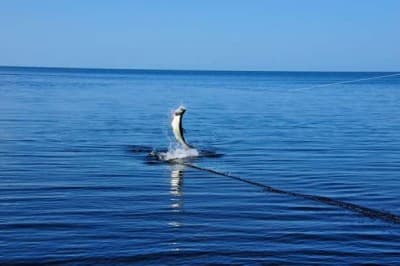 While baby tarpon can be found in a number of places, my two favorite destinations are Isla Holbox and Campeche, both in Mexico. Holbox offers both babies and their big brothers along with snook, jacks and cobia. We stay at the beach front Holbox Island Fly Fishing Lodge. Manager Luciano Govi, is the best and it's a great place to take a non-angler. Holbox has one of the most natural and beautiful beaches in all of Mexico. Campeche offers just baby tarpon but that said, you can occasionally run into snook and like Holbox it has a convenient hotel and pool. Campeche itself is true Mexico – full of colorful shops, restaurants and good food. The colonial down town offers things to do for the non angler and Miquel and his guides are over the top.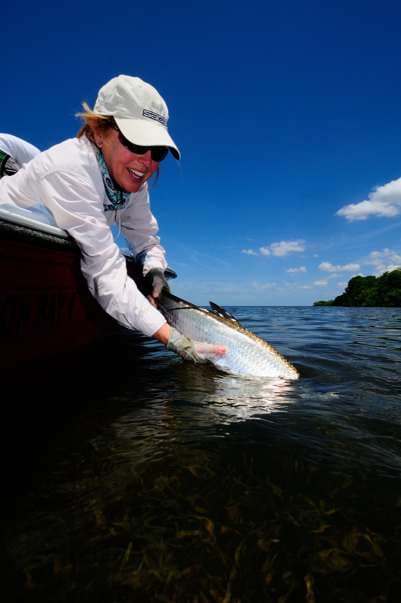 If you like action, jumping aerobatic fish on light tackle then casting to the baby tarpon should be on your radar screen. Oh, don't forget to set the hook with your line hand.