Austria
by Aaron Jasper 8.29.2013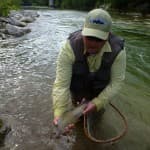 Annually, I plan a special fishing trip to a new destination. Traveling to Europe has been a lifelong goal of mine, and luckily for me, European countries all have wonderful fly fishing opportunities. The first person that came to mind when I was planning this trip was prior Team USA Fishing Member, George Daniel. George has fished more in Europe than most people. When posed the magic question, "Where should I go?", there was little hesitation on his part. He quickly answered "Austria." His enthusiasm made me certain of my choice. I'll just say this; I was not disappointed one bit.
Within a week of talking with George, my flight from Newark, New Jersey to Vienna, Austria was set. I researched every river and stream that I wanted to fish and made several excellent contacts that led to some very memorable fly-fishing experiences.
Austria is very unique in the fact that it offers every single fly fisherman, whether they are beginner or expert, the opportunity to have a fly fishing trip of a lifetime.
On the first day of the trip I had major jet lag, plus a two-hour drive through the mountains to the lodge and the anticipation of fishing in a new country made it difficult to sleep. After speaking with lodge owner Eva, we decided that fishing the river Ybbs near the lodge was the best bet. I headed out in the morning with mixed expectations. I didn't realize how clear the water would be. I have heard some great things about Austria but, similar to the United States, clear water like what I experienced on the Ybbs can at times mean difficult angling conditions, even if large numbers of fish are present. This was not the case. I arrived at the river at six-thirty am and saw more trout and grayling than I ever had in my lifetime. After catching more than enough fish, it was decided to take a nice break for lunch. My rest proved beneficial, since I did not know what would transpire in the next few hours.
After a long lunch and nap, I began fishing up through riffled sections with my nine foot three weight SAGE ONE rod and a cdc and elk caddis pattern. The grayling fishing was unreal. They love to rise for dry flies. After hiking upstream for close to three hours, I arrived at a plunge style pool and there were four giant Huchen, which are a very close relative to the famous Taimen, which were stationed right below a plunge pool. I had no large streamers. I was not prepared for this type of situation. I had planned on fishing nymphs and dry flies to the abundant grayling, rainbow and brown trout. Since I was only fishing dry flies to a great caddis hatch that afternoon, I took my vest off in a panic to find the largest fly possible. All I had were two rubber legs stoneflies. I immediately took off my dry fly leader and attached a ten foot piece of
5X RIO Flouroflex Plus
. This was definitely a "do whatever it takes moment!" I made a made a cast in desperation, knowing that these salmonids are famous for taking much larger food items than I had in my possession. Once I made the cast I jigged the fly as it approached one of the Huchen and the fish took the rubber legs! The flare of the fish opening its mouth to inhale the nymph was breath taking. This fish tried everything it could to make me lose it. It nosed into rocks, trying to cause abrasion; the entire time of the fight was spent with me thinking to myself. "Please don't go slack!" I knew the odds of landing this fish were against me. After a 20 plus minute battle I practically dove on the fish and it turned out to be 117 centimeters or 46 inches in length. What was amazing was with patience and letting the fish tell me when he wanted to land it, the 5X Flouroflex Plus and
3 weight ONE
rod were both up to the challenge.