Atlantic Salmon, Gaspe Penninsula, Quebec
rioproducts 11.12.2009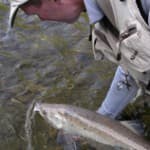 Atlantic Salmon in the beautiful Gaspe Peninsula in Quebec is an amazing trip. Here's Simon's recount of his experiences.
Simon and Jim experience the beauty and bounty of the Gaspe Peninsula while swinging for Atlantic Salmon.
| | |
| --- | --- |
| WHERE | RIVERS FISHED OUT OF MALBAIE LODGE, NEAR THE TOWN OF GASPE, QUEBEC |
| WHO | SIMON GAWESWORTH & JIM VINCENT |
| WHEN | JUNE 11, 2006 |
| SPECIES | ATLANTIC SALMON |
| CONDITIONS | LOW WATER, SUNNY AND DRY. WATER TEMPS RANGED FROM 55 TO 72 DEGREES |
| BEST FLY | COLLIE DOG |
| FLY LINES | WF8 ATLANTIC SALMON & STEELHEAD TAPER |
| LEADER/TIPPET | 12′ 7.0 IPS POWERFLEX CORE SINKING LEADER, 15′ 10LB SALMON LEADER & FLUOROFLEX PLUS 2X |
| TACKLE | 9′ FOR A #8 LINE AND 13′ FOR A #7 |
| TECHNIQUE | STRIPPING A COLLIE DOG WAS MOST SUCCESSFUL. SWINGING WET FLIES AND DEAD DRIFTING DRIES WERE ALSO USED. |
With low water and high temperatures Getting ready to fish a stunning pool....the fishing was never going to be easy. We fished five rivers over 7 days: The York, the St. Jean, the Dartmouth, the Grande and the Pabos Nord. All of the rivers were delightfully different from each other and in a most stunning part of the world
There were 14 fishermen at the lodge and the week proved to be quite tough. Two fish over 30 lbs were landed for the group as well as about a dozen over 20 lb.
The highlight of such a trip has to be the spectacularly beautiful rivers with the wonderful clarity that enables you to sight fish to a salmon and watch its reaction.
One of my most memorable moments of the trip was a fresh fish I caught off the Grande river. The fish had refused all patterns and techniques for most of the morning until I crossed the river to get a different swing across the fish's nose. First cast with a collie dog, stripped back upstream, made the salmon lunge from its lie into about 4″ of water to slash at the fly. It missed, but 6 casts later the fish charged the fly again, hit with a vengeance and then tore off 150 metres downstream, leaping 6 times on its first run. It turned out to be a fresh 23lb hen.