A New Zealand Plan
by Cathy and Barry Beck 11.13.2015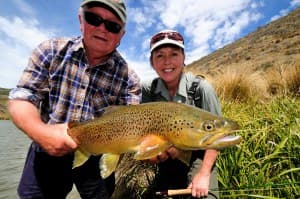 Five months seems like an eternity right now but in reality I know it will go fast. You see it's October here in the mountains of northeastern Pennsylvania and in five months time I hope to be in a clear New Zealand river stalking a South Island brown trout. February is my favorite month to be in New Zealand, although I am perfectly happy to be there regardless of the season. I simply love the fishing, the people and most of all the adventure of chasing some of the most selective brown trout in the world. Barry and I host fly fishing trips internationally for Frontiers International, but if push came to shove and you asked us where our favorite trout destination is we would say New Zealand.
Kiwis describe their water as clear as air and for the most part it's true. The south island browns are big by any standard often going to double digits, and they all have college degrees. During the cicada season the big fish will come to the surface giving anglers the thrill of a life time, and if you hit a mouse year the fish quickly put on pounds. We know of an angler who killed a twelve pound fish that had the remains of 17 mice in its stomach. That will get your attention!
Fishing in New Zealand takes a little planning if one hopes to be successful. First good gear is absolutely essential, starting with a good pair of wading boots with sticky rubber and cleated soles. (No felt soles allowed in New Zealand.) We wet wade most of the time and it's not uncommon to walk four or five miles a day looking for that trophy fish. Earth tones or camo colored clothing is a smart move as you need to blend in. A five or a six weight, nine or nine and a half foot, faster action fly rod will be appreciated. My favorite is a
596-4 Sage ONE
matched with a
RIO Grand
five weight floating line. I often find that I am casting from a kneeling position or in deep water so the extra six inches of rod length is an advantage. Twelve foot tapered leaders are a good to start with, we rarely use anything shorter and often end up with much longer leaders of eighteen feet, or more. For the last few seasons I have gone to the
RIO steelhead
and salmon tapered leaders which turn over larger flies like the cicadas or Super Beetles with ease.
This is trout hunting at it's best so a good pair of polarized sunglasses are as important as your fly rod. We have been impressed with the new Smith Optic Chroma Pop in a brown tint for spotting fish. The ChromaPop technology optimizes color and increases clarity and definition – what fisherman wouldn't want that? A good fly selection would include an assortment of tungsten bead head nymphs ranging in size from 10 to 18; cicadas in sizes 8, 10 and 12; followed by black Super Beetles in 8 through 12. Because we almost always find a few spinner falls, our boxes carry red brown spinners sizes 14 through 18. The standard and everyone's favorite, the Adams, is the universal dry wherever trout live and New Zealand is no exception. We carry an assortment of standard Adams in size 10 through 18.
There is so much trout water on the South Island that it would be hard to fish it all in a lifetime. However, that said, we do find ourselves going back to the same two areas every year. We fly to Christchurch and start our trip by fishing out of Riverview Lodge, near Hammer Springs. Lodge owner John Gemmell has a storied reputation for finding the big boys. Three years ago he put me over a magnificent double digit brown that is still today my best brown ever. This is Hope River country and one of our favorites. After John's, we work our way to Felix Borenstien's, Owen River Lodge, near Murchison. ORL sits on the banks of the Owen, a small river but well known in trout circles. From Felix's lodge are a list of some of the most famous rivers on the South Island and his group of seasoned guides do a remarkable job of showing their clients some of the best fishing that New Zealand has to offer
Most of us have a bucket list of places that we would like to fish. If New Zealand is not on your list, you might want to reconsider because it is truly worth the experience. If you enjoy walking in some of the prettiest country you'll ever see and casting to what might be the best trout of your life, with possibly big dry flies, you'll be glad you put a plan together to visit New Zealand.