A Fishing Story
by Barry Beck 4.10.2014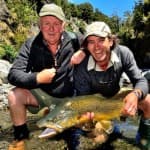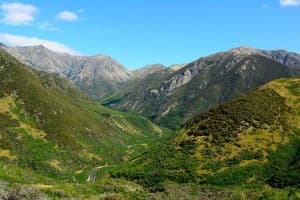 Looking upstream I saw the tail end of what looked to be a deep pool or run. "That's the pool," Nick said as we moved slowly forward. Both Nick and John went into a predator-like mode, Nick climbing up a steep bank looking to get a higher vantage point, John staying just ahead of Cathy reminded me of a bird dog about to go on point. Nick saw the fish first, whispering it's position. John gave us a hand single to stay low and hold still. He slowly backed up to Cathy and told her that the fish was swinging, which in Kiwi terms means that he's feeding. I looked up at Nick who was holding rock still. I wondered if he was even breathing and immediately thought that this was serious business with these guys.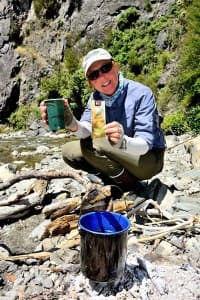 My wife, Cathy, and I sit here at Burgers, BBQ and Brew on the way back from the South Island of New Zealand at C Concourse in the Atlanta Airport. We are surrounded by other people, something not uncommon at this very busy airport yet there is one thing that amazes me and that is that no one is talking. Well, I should say that no one is talking to each other. I count eleven cell phones out and realize that everyone is texting. Like so much of today's technology our world continues to change and in some cases that also includes our sport of fly fishing. Our fishing story is a good example of how technology can lead us to a trout of a life time.
It was a Tuesday morning in the parking lot of John and Robin Gemmel's Riverview Lodge, near Hanmer Springs on the South Island. The weather was perfect, a bright blue sky above us and no wind, certainly it was the kind of day any Kiwi guide would pray for. We were on a mission to catch or at least try to catch a double digit trout that a friend had told Nick Roberson about. Nick, a Kiwi guide, in turn told John who in turn asked us if we would like to try for this fish. Who wouldn't want to catch a double digit brown trout?
It turns out that Nick's friend is a chopper pilot who from the air spotted the large fish in a small remote river. He immediately locked it in on his GPS and few days later he gave Nick the coordinates. So here we are forming a plan on how to catch this fish. Spending two thousand dollars for a fly-out for a try at the fish was not in the budget so John studied a topo map and thought he had found a four wheel drive track (as he called it) that would put us within a few miles of the fish so off we went – Nick, John, Cathy and I.
As it turned out, the track was more of a ditch and at times it seemed impossible to navigate. It was basically a vertical uphill climb or a downhill ride. Three hours later and a lot of holding our breath hoping an axle wouldn't break or the brakes fail, we arrived on a bluff overlooking a long, narrow gorge. Nick checked his GPS and said pointing, "It's over there." My eyes scanned the huge valley in front of me and said, "Where is Over There?" Nick was already walking as it replied, "It looks like its only a couple of Ks." So off we went. Two hours later after bashing through thorns and brush we were finally standing in the water of a small stream.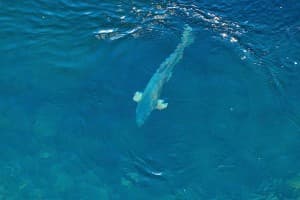 Cathy crawled up to where she could see the fish and got into a casting position. We watched as her 18 foot leader and small tungsten bead head nymph turned over and waited as the small white wool indicator floated over the fish. Nothing happened, even though he had to see the fly. John quietly said to change the fly and added that he didn't think the fish liked the cast. I couldn't imagine the cast or drift being any better, but Cathy quickly changed and made another cast. This time the fish moved but not to the fly, instead he swam slowly upstream and disappeared. "Let's give him some time," John said so we backed up below the pool to rest the big fish. Nick climbed back down and pulled out a tin pot out of his back pack. In short order we had a fire going, water boiling and a Starbucks instant latte mix ready to go for Cathy and I – of course, John and Nick had tea.
It seemed like an eternity, but we finally crawled back upstream in search of the big fish. Nick went high and again was the first to spot the fish. "He's gone quiet," Nick said "but we might as well give him a try." John changed the fly and opted for something larger. Cathy made the cast, I held my breath, the indicator disappeared and the hook was set. Ten minutes and a few heart stopping moments later the trout was in the net. Ten pounds plus a little more John said as he studied the scale. I looked around at all the smiling faces and breathed a sigh of relief. A few well-deserved photos and we all watched the beautiful brown slide back into his pool and disappear.
"It's time to go back to the lodge," John said. We had gotten what we came for. Indeed we had. I thought about the day. A chopper pilot gets lucky and sees this fish from the air, marks it on his GPS, gives the information to a friend who happens to be our friend, who brings us to this very spot. Three casts and the fish is landed, photographed and released. I thought about the GPS, the long, slow, bumpy ride in and out, the hike and the skill it took to hook and land the fish and in my mind it makes one heck of a story.