2014 Skeena Update
By Lani Waller 11.21.2014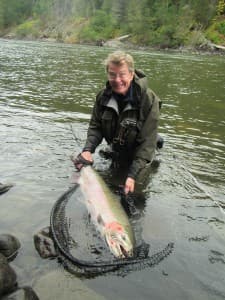 Northern British Columbia's famous Skeena steelhead season served up a mixed bag this year- sometime superb, and sometimes disappointing. It's always been this way and it always will be. This is mostly due to the fact that the fall run of trophy steelhead on rivers such as the Babine, Morice, Bulkely, Kispiox, Copper, Sus- Tut and others occurs at a time when the weather is changeable and unpredictable. The fish are always there, but when conditions are bad, so is the fishing. Usually…
The bottom line, so to speak: during the months of September and October there is really no way to predict what will happen and when it will happen and I have spent more than four decades trying to explain this to U.S anglers who contacted me for information. Everyone wanted the same thing: the most fish, the biggest fish and the best river and week to accomplish these things. The questions became a predictable chorus: "What exactly is the best time?" And "What river is the best?" These questions are also reasonable and understandable. It is expensive fishing and the stakes for that reason at least, are high.
So my answers are always guarded and it gets complicated because the weather up there is not only seasonally unstable overall, it is also river specific at times. In other words, on any given day or week, it can be raining like hell on the Kispiox and bone dry on the Sus Tut. In addition some rivers usually see earlier runs than other rivers and some have more fish later in the season. This too isn't absolute and in the end you pay your money and you take your chances.
As far as size of fish goes it's difficult to say. All Skeena tributaries have large fish but if you look at the averages, you'd have to take the Kispiox and the Sus-Tut as having a statistically higher average size. On the other hand the Bulkley has a larger run of fish and the Babine offers a truly great wilderness experience with little or no crowding.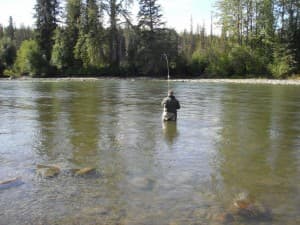 In any event, here are some highlights from the 2014 season.
The early fishing this year got off to a good start. Early fishing this year meant the last half of August and the first week of September. The Kispiox, Babine and Bulkley were all very good during this time frame. These rivers were mostly low and clear due to little or no snow melt coming from the surrounding mountains. There also had been little rain on most of the Skeena tributaries so many early anglers had great conditions with estimates for good numbers of returning fish. The Bulkely fished very well in late August and experienced anglers were taking three to four fish a day per person. The Babine and Kispiox also were good. I fished the first week of September with friends on one of these rivers and nine of us hooked 117 steelhead on the fly, and landed approximately 90.
By mid September, the good weather had turned into bad news for many anglers. With no rain and little snowmelt, many of the Skeena tributaries continued to drop and become clearer. Air temperatures were unseasonably warm and there was little cloud cover on many of the rivers, including the Babine and Kispiox. By September 12, give or take a day or two, these conditions transformed the Babine and the unusually and extremely low water became clouded by glacial run off from the Shelgyote and Nilkitkwa glaciers. Visibility dropped to less than a foot in the shallow runs and pools, and the angling got tough in a hurry. One lodge on the upper Babine closed due to low and challenging river conditions as navigating the boats became difficult and challenging.
The Kispiox became very low, clear and warm and the fish went, as they say "Stale, and off the bite." The Bulkley faired better during the lower water and had decent steelhead fishing during this time –on most sections of the river.
By mid October some rivers became better due to rising water from needed rainfall. The problem was hitting it right as the rivers receded and then raised again. Not an easy task. Those who did hit it right had excellent angling. All the Skeena tributaries had some wonderful days and some very difficult ones as weather and weather conditions changed many times during late October. The Babine fished extremely well this year during their late season. As far as the Babine is concerned late fishing means the last week of October and the first week in November. Anglers reported two to four fish a day per rod. Similar reports came in from the Sus Tut and Bulkley, but here again it was impossible to predict ahead of time just when you should be on any given river.
If this sounds impossibly complicated and beyond prediction, that's because it is and drawing conclusions is tricky. What I took from this 2014 season was something I learned years ago- the Skeena steelhead fishery is impossible to predict. There are some elements which illuminate long term possibilities but nothing is cast in stone. I've always summarized it this way and it's not much to go on but remains true nonetheless. If you fish three years on any of the Skeena tributaries during the months of September and October you will have one great year, one bad one and one which is somewhere in the middle. These are usually-.in fact almost always- determined by weather and almost anything can happen.